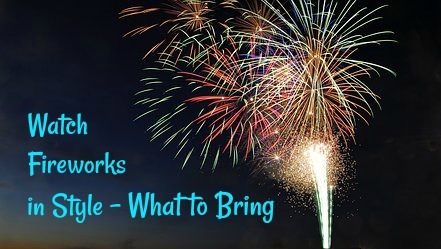 Watch Fireworks in Style – What to Bring
June 26, 2018
Celebrations are coming and you can't celebrate without some fireworks!  Whether you have your own show in your backyard, attend a local event or a large city display, our Watch Fireworks in Style – What to Bring list will come in handy.  Take a look at how to make your fireworks watching a success! With so many occasions this summer  such as Canada Day, Independence Day and The Calgary Stampede, your sure to see many colourful lights in the sky.  

My oldest is just old enough to enjoy watching fireworks.  At 5 years old she can now stay up late and understands when we tell her the fireworks will be loud.  But this isn't just for the kidlets, pull some ideas for friends and family. Know of a great tip that's not mentioned?  Be sure to drop it in the comment section…we're always looking for ways to make things easier and comfortable!

Watch Fireworks in Style – What to Bring
Comfort.  Be sure to bring chairs to sit on or a large blanket to cover the grass.  If you have children, consider bringing both!  Bring blankets to cover yourselves as well, it may be a hot day but when the sun goes down it can get cooler fast.
Pre-Fireworks Entertainment.  This is especially important if you are going with little ones.  Getting a great spot means you might have to get to the park early, and since fireworks cannot start until dark, there may be quite a bit of down time.  Bring toys, bubbles and games that will keep everyone occupied until the show begins!
Bug Spray.  Depending on your location you may want to bring the bug spray along.  Most fireworks are set off near water or in fields which can be heavy with bugs.  Try to avoid bringing bug lanterns or coils as these can be bothersome and distracting to others who are there to enjoy the show too.
Snacks.  Bring snacks!  Popcorn, candy and cookies.  What's a show without a yummy snack?  Also, bring drinks.  There's nothing worse then finally setting up and realizing you don't have anything to eat or drinks…doubly true if you have kids!
Photos.  Don't forget your camera!  Make sure to turn your flash off and don't forget the burst mode, this way you can take a bunch of pictures and delete the ones you don't like later.  Share the good ones on social media, I love seeing the festive fireworks!  But, remember to look up every once in a while and enjoy the moment…in the moment!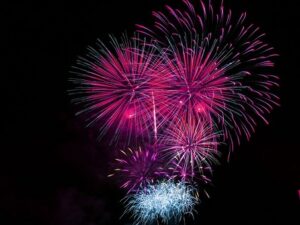 Fireworks are amazing to see, no matter how many times you've seen them they never get boring.  I hope this list helps you enjoy the show that much more!  If you're looking for more ways to be festive in and out of your home take a look at our DIY decor projects such as Canada Day – Welcome Eh! Door Decor and Glowing Hearts Light Up Frame.  With step by step instructions these pieces can be customized to your liking.
Need supplies for this fireworks season?  You can get what you need delivered to your door*
*Disclosure: Some of the links in this post are affiliate links.  There may be a small commission made by our recommendations, and/or link to products mentioned or services on this website.  Any potential purchase you make will help us continue to bring you amazing content, step-by-steps and product reviews.  Products are not exact to what we use, make sure these materials are right for you!
You May Also Like

June 16, 2017

January 1, 2017