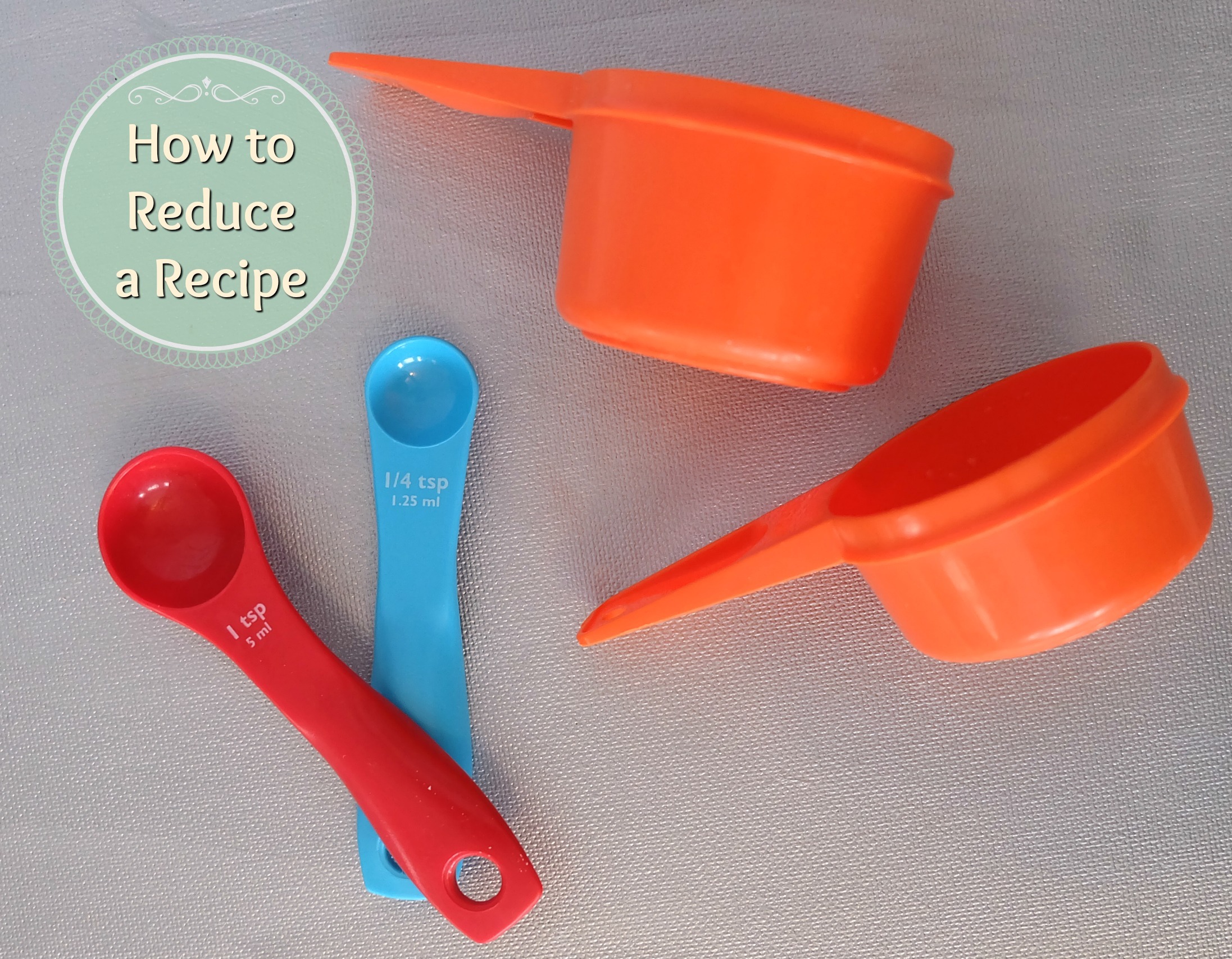 How to Reduce a Recipe
February 10, 2017
Ever want to make a recipe but not necessarily the whole amount?  This happens to me often and for a couple different reasons.  Sometimes I just want a taste of the recipe, not knowing how it will taste or how the family will like it.  Other times I just don't have time to make multiple batches or just want a portion for a special dinner or treat.  No matter what the reason, I always need to look up the new measurements for How to Reduce a Recipe.  
Here are a couple easy to use tables showing how to half or third a recipe!  I also added a few tips to consider when reducing recipes.  Hope you like it!
How to Reduce a Recipe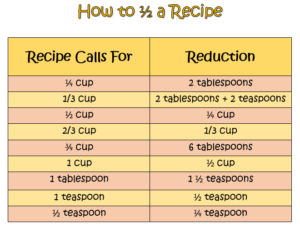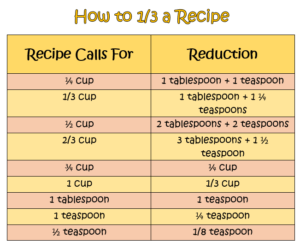 Some noteworthy tips to consider when reducing recipes…
Sometimes it is easier to just make the whole recipe and freeze whatever portion you don't use.

If you need to half an egg for a recipe all you have to do it is break it, mix it together and then use 2 tablespoons of the mixture.  

When reducing a recipe remember that you may need to use smaller pots or saucepans. Timing could also be wrong if reducing a recipe, so check on your recipe often when cooking/baking.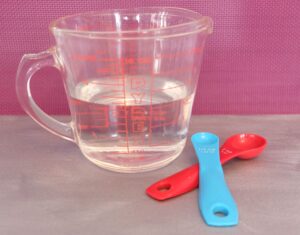 Also, here are a few conversions to help out!  Since I always need a quick go to chart for conversions, I thought this might be useful, especially when you need to reduce a recipe.
Conversion Chart
From cup – tablespoon – milliliters
1 cup = 16 tbsp = 240 mls
¾ cup = 12 tbsp = 180 mls
2/3 cup = 11 tbsp = 160 mls
½ cup = 8 tbsp = 120 mls
1/3 cup = 5 tbsp = 80 mls
¼ cup = 4 tbsp = 60 mls
1 tbsp = 15 mls
1 tsp = 5 mls
I hope these tables, tips and conversions help the next time you need to reduce a recipe.  If your looking for a great recipe take a look at our Recipe's page!
You May Also Like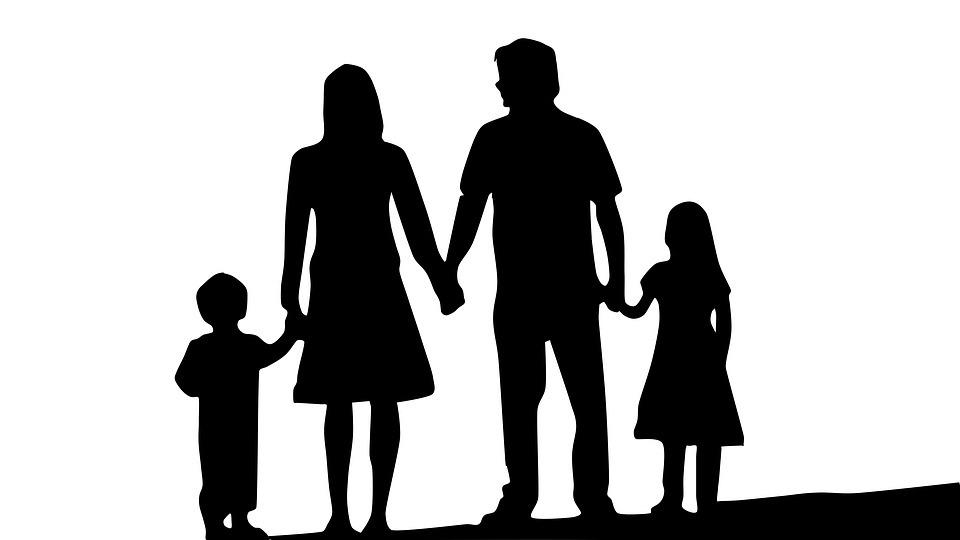 April 15, 2017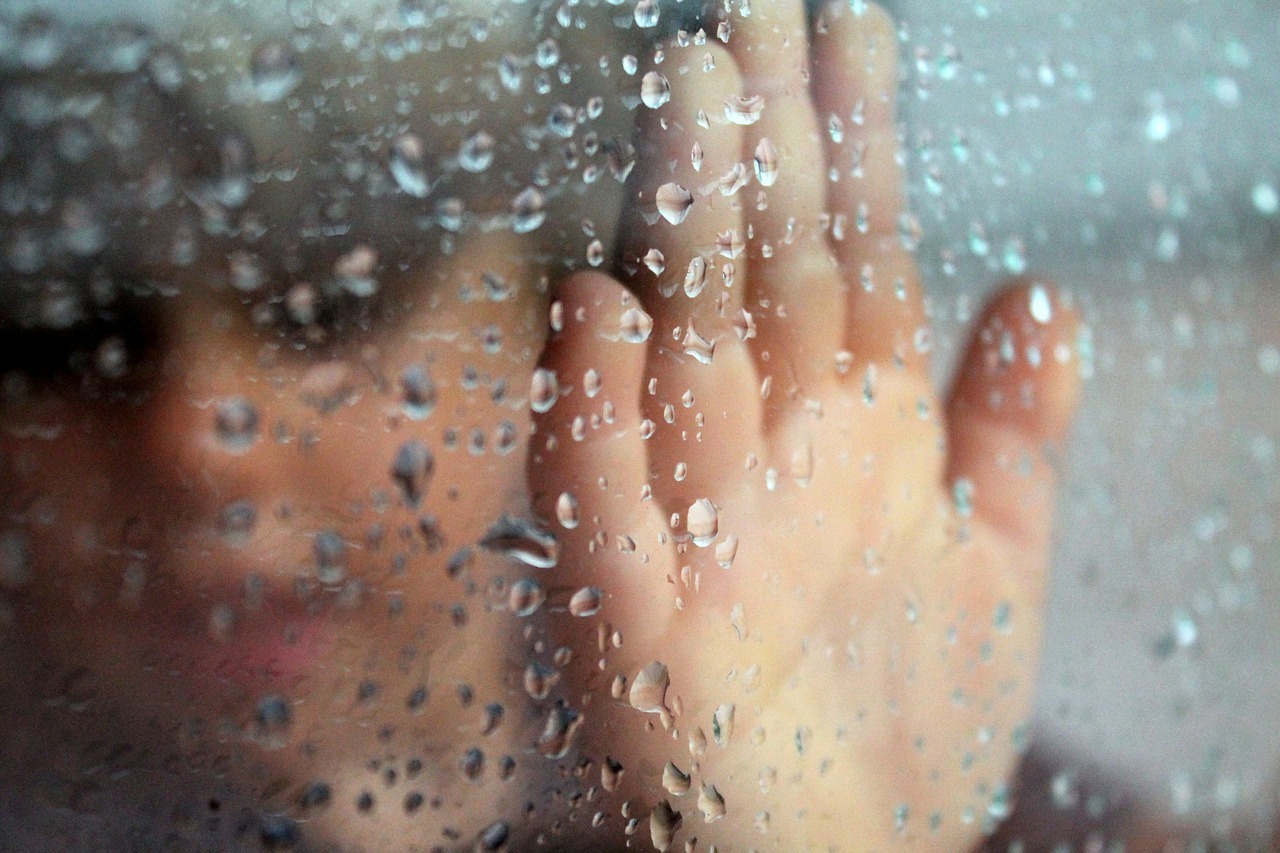 June 5, 2018

October 31, 2017