How to Make a Macrame Wall Hanging with Natural Coffee Dying
I keep seeing all these beautiful macrame wall hangings pop up on my news feed and for this reason, I knew I had to make one. After my first attempt with macrame (see our Hanging Macrame Flower Pots) I'm consequently hooked on this trend! There are very intricate designs for the pro's but since I'm new, I needed a beginners design. This tutorial will show you How to Make a Macrame Wall Hanging with Natural Coffee Dying to add to the fun! If you want to try something new keep reading…I warn you though, it gets very addictive!A
 There may be a commission if you purchase through links in this post.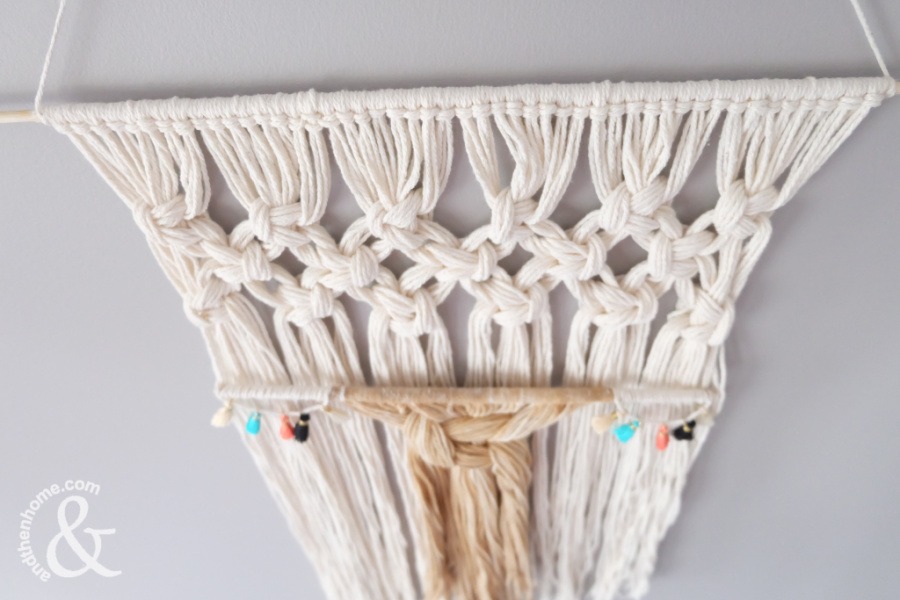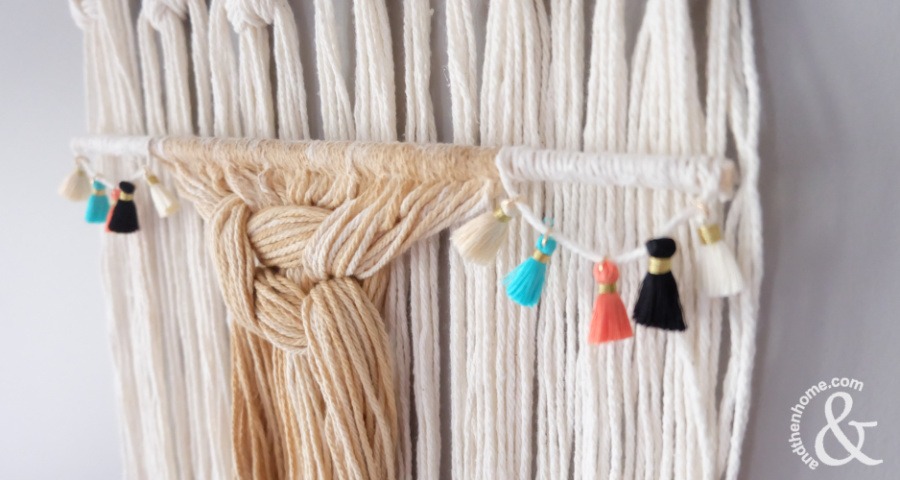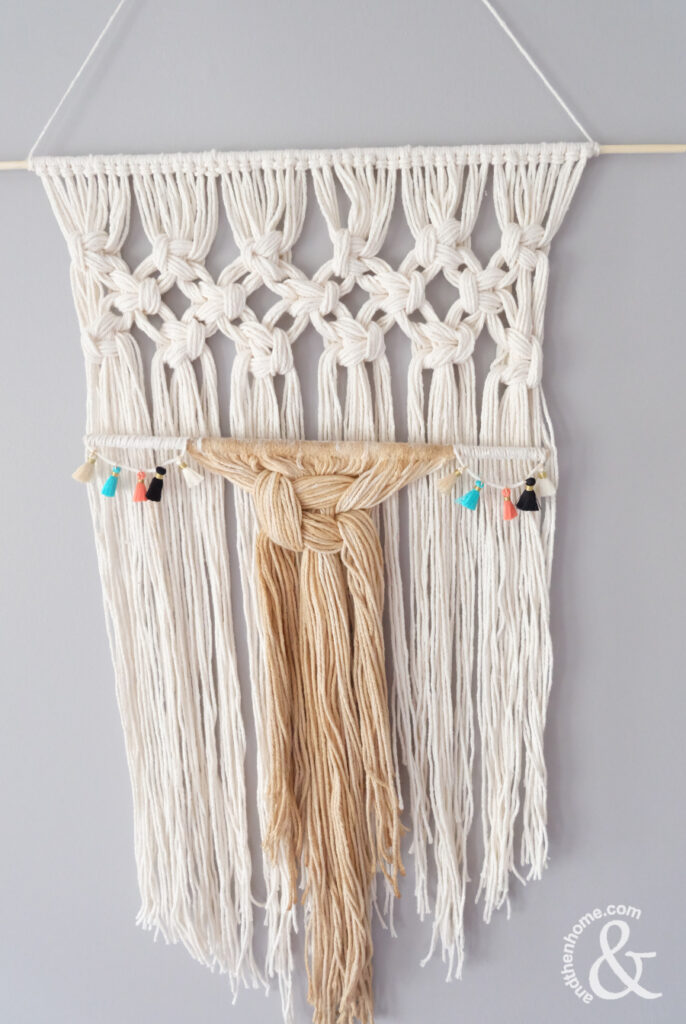 This macrame wall hanging is very simple and uses a popular, easy technique. The type of macrame knot used in this pattern is called a Square Knot. The key to this macrame knot is to use four strands of rope, or eight when using double strands. This one knot technique will give you a beautiful macrame design.

Not only is a macrame wall hanging fun to create, will fit most home decor styles. If you're home decor style features hygge, famhouse or modern decor this piece is right up your alley. In the end, I love the way this project turned out mainly because it looks great and it was so easy!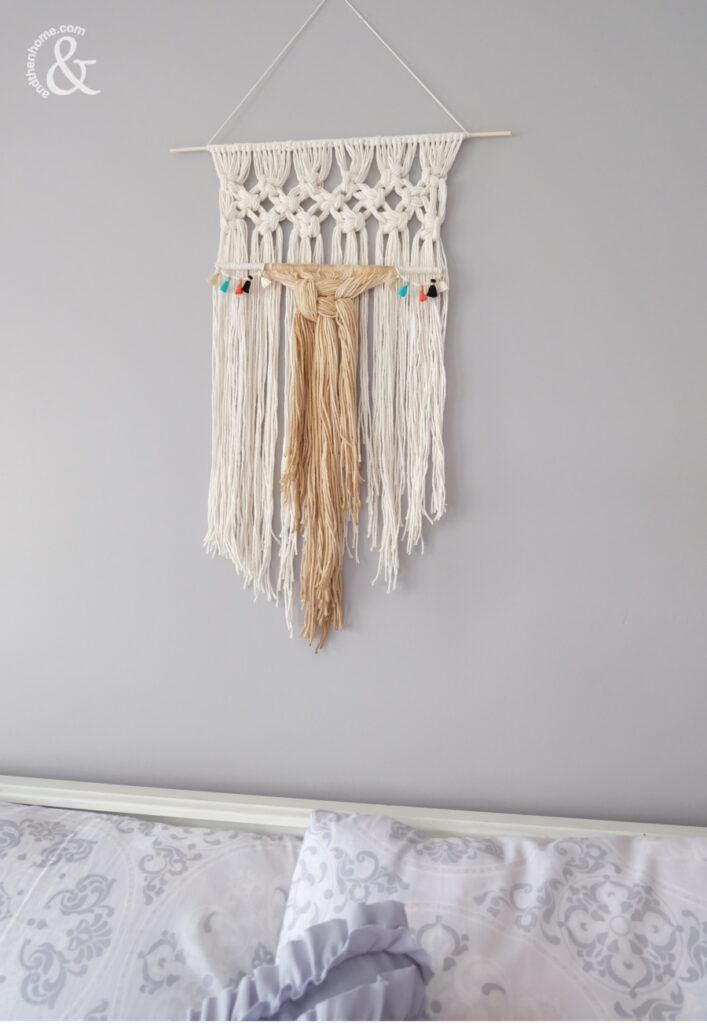 How to Make a Macrame Wall Hanging with Natural Coffee Dying
What you'll need:
Instant coffee
Hot water
A bowl
Two doweling (one larger then the other)
Cotton yarn (only use a natural finer when dying)
Hot glue gun
Scissors
Accessories (like mini tassels) – optional
How to achieve Naturally Coffee Dying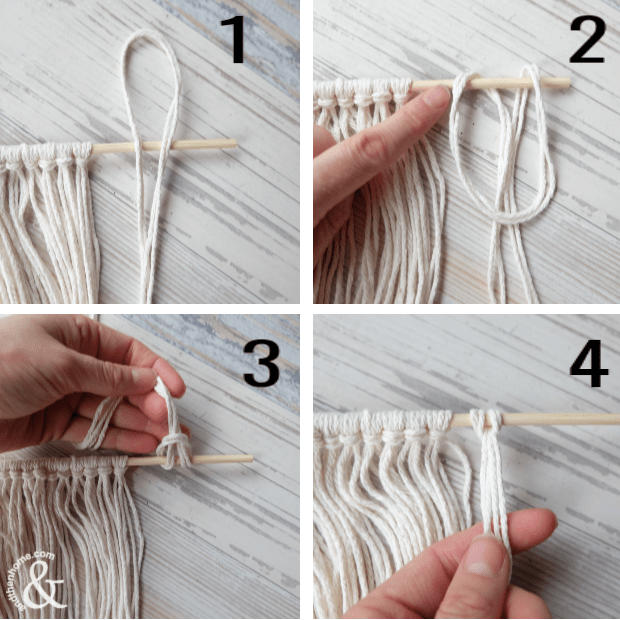 First, cut and thread your yarn onto the short doweling.
Place some instant coffee into the bowl. The darker you want the material to go, the more coffee you should add. Add boiling water and stir with a spoon until fully dissolved.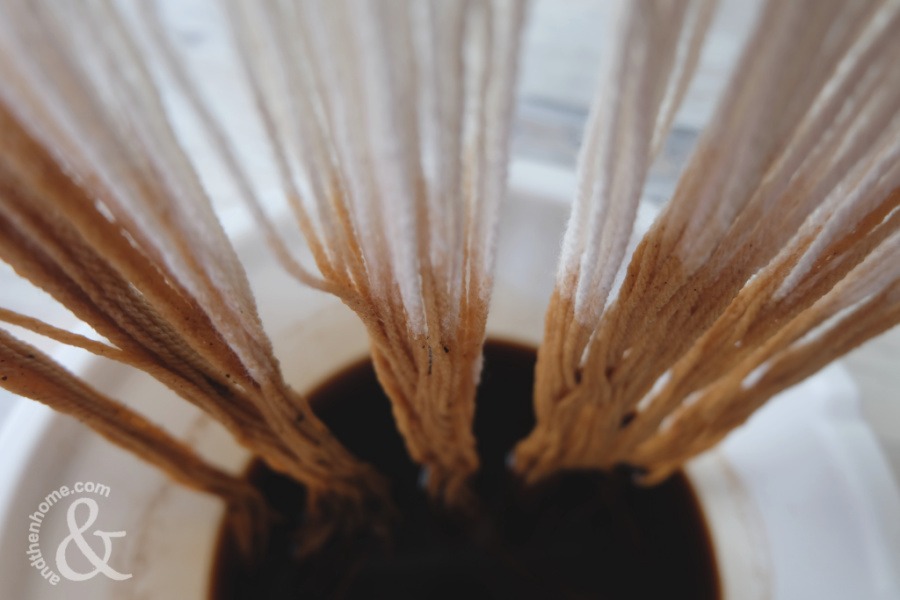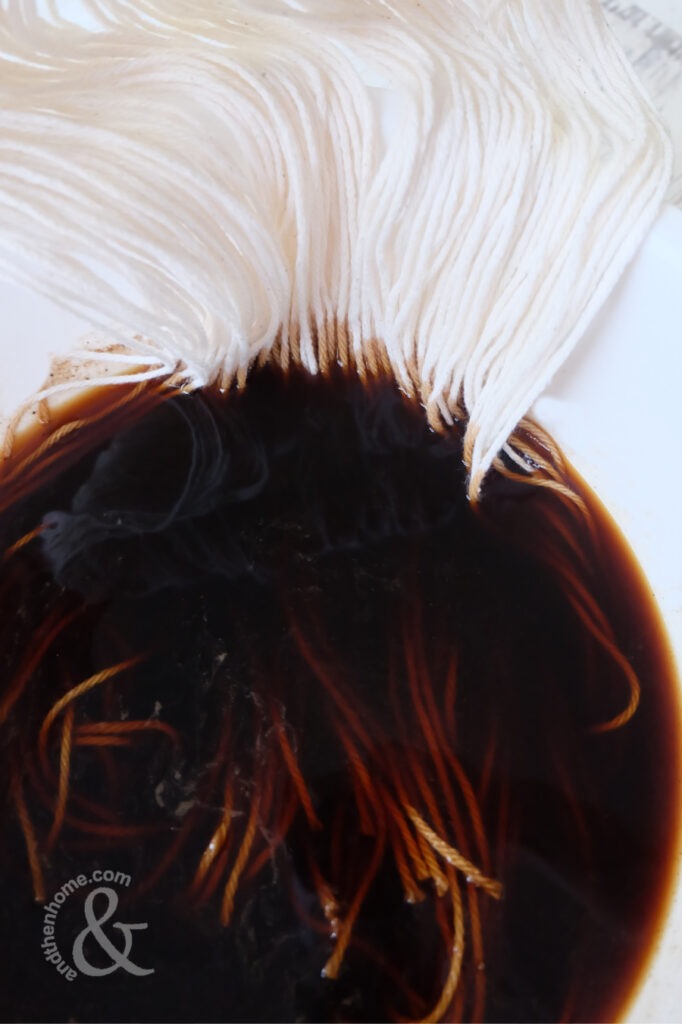 Place your yarn into the bowl. I placed only the ends of the yarn, which created an ombre look. Let it sit for about an hour, less if you want a lighter dye.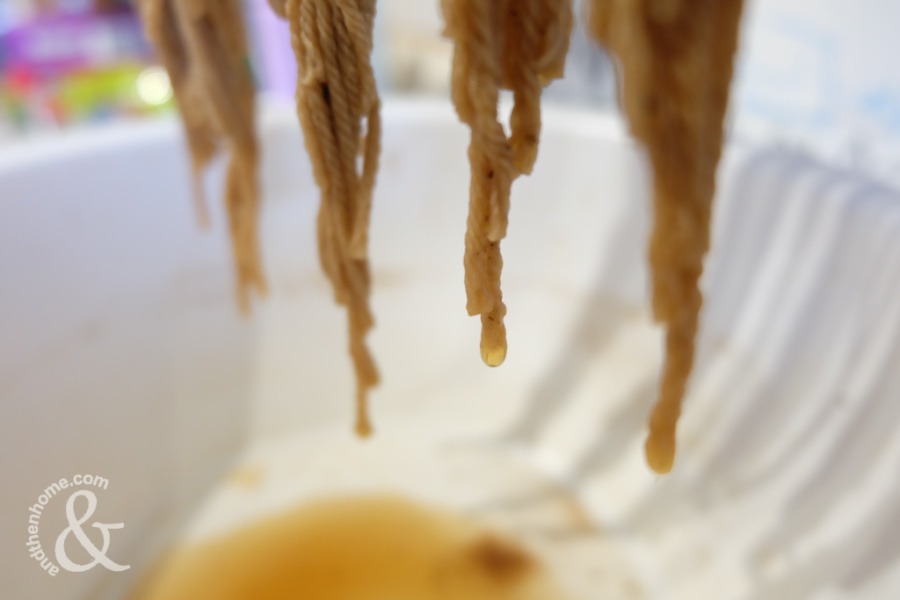 Once finished, hang to dry overnight.
How to Make a Macrame Wall Hanging
Measure your yarn and cut it appropriately. Thread it on the large doweling as above. Begin to create your square knots with the instructions below.
How to Make a Macrame Square Knot: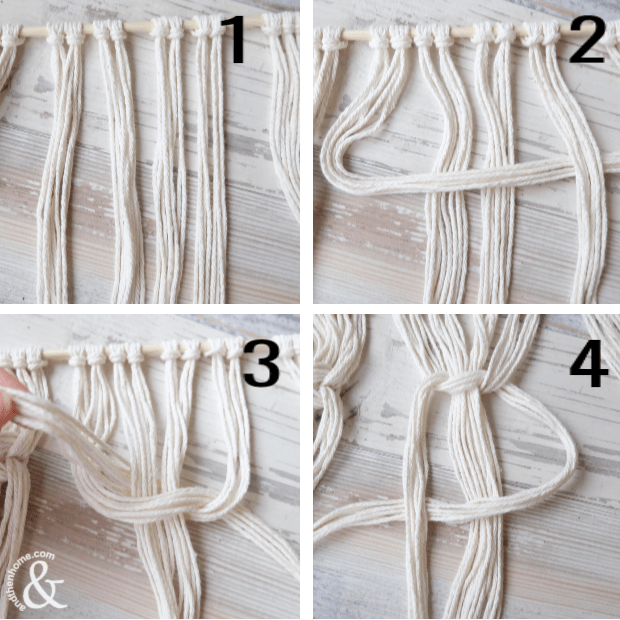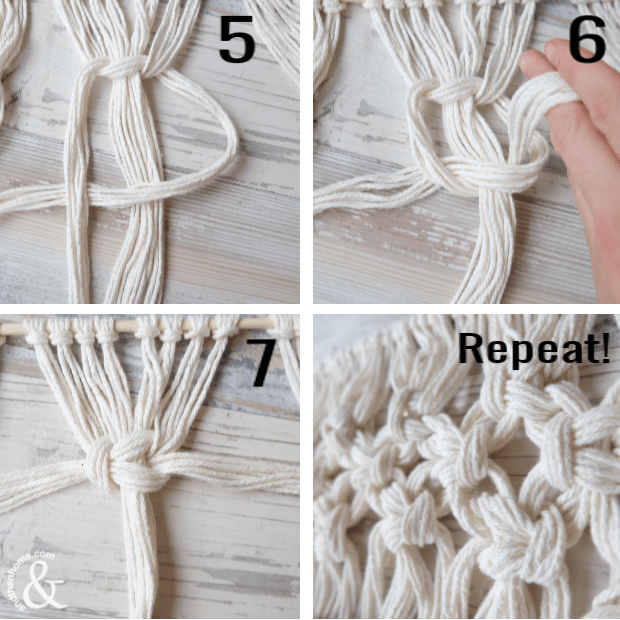 First, you want to work with four strands of rope (or eight when creating the double knot as seen here).
Always start with the left side. Separate your four strands and create a "sail" by bringing the outside strand over the middle two and under the right.
Then take your right strand and run it under the middle two and up through the opening in the "sail".
Then, gently pull the outside strands together to create the first part of the knot, adjusting the middle strands as needed.
Repeat the first few steps starting with the right side.
This will complete the macrame square knot. Repeat this knot across the top of the long doweling. Then complete a second layer of knots, repeating the entire process.
Add your Coffee Dyed Yarn to the Macrame Square Knots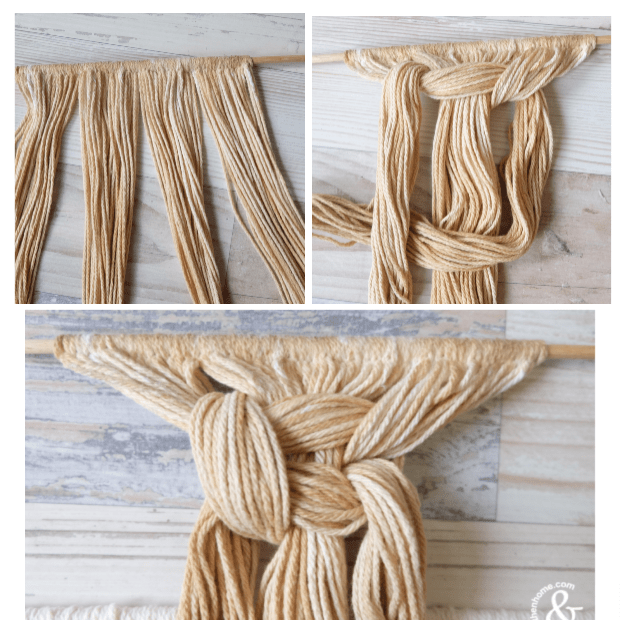 Help tie in *pun intended* the coffee dyed yarn by creating a large square knot. Divide the entire doweling into four parts and follow the same knot pattern as above to make one big macrame knot.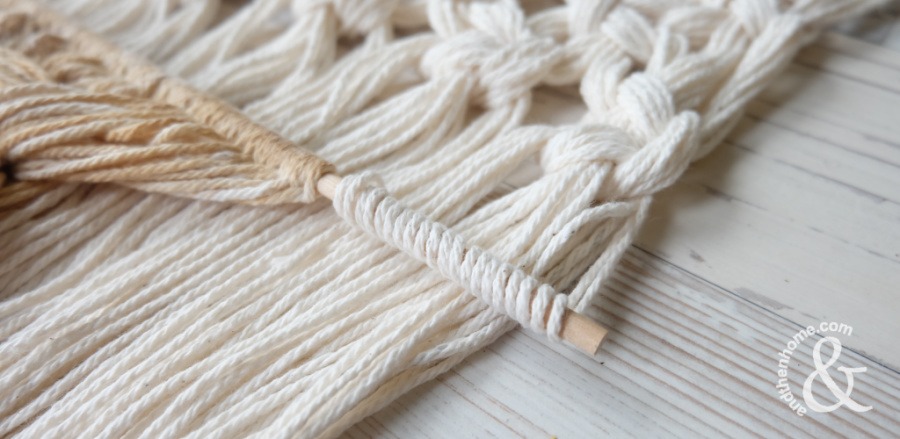 Then using your hot glue gun, attach the two pieces together. Use two strands from the large doweling and wrap them around the small doweling, gluing a small amount as you go.

Finally, add your accessories
Once they are secured together, trim the bottom of the yarn to make a point, or cut it straight.
Finally, add your accessories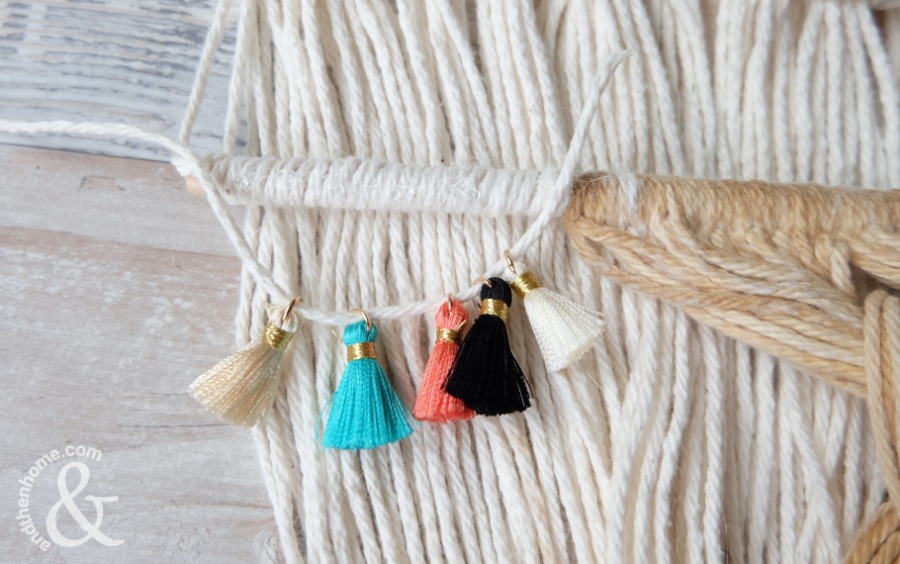 You can add some colour if you want…because who doesn't love colour?
There you have it! The final product. I am addicted to macrame knots now and will be attempting more intricate designs. Have you attempted macrame yet? Do you love it, am I the only one addicted to macrame knots??
Looking for more yarn work? Try our Macrame Hanging Flower Pots or our beautiful Yarn Wrapped Boho Picture Frame
Need some materials to begin? Buy online, save yourself the time*
*Disclosure: Some of the links in this post are affiliate links. There may be a small commission made by our recommendations, and/or link to products mentioned or services on this website. Any potential purchase you make will help us continue to bring you amazing content, step-by-steps and product reviews. Products are not exact to what we use, be sure these materials are right for you!
You May Also Like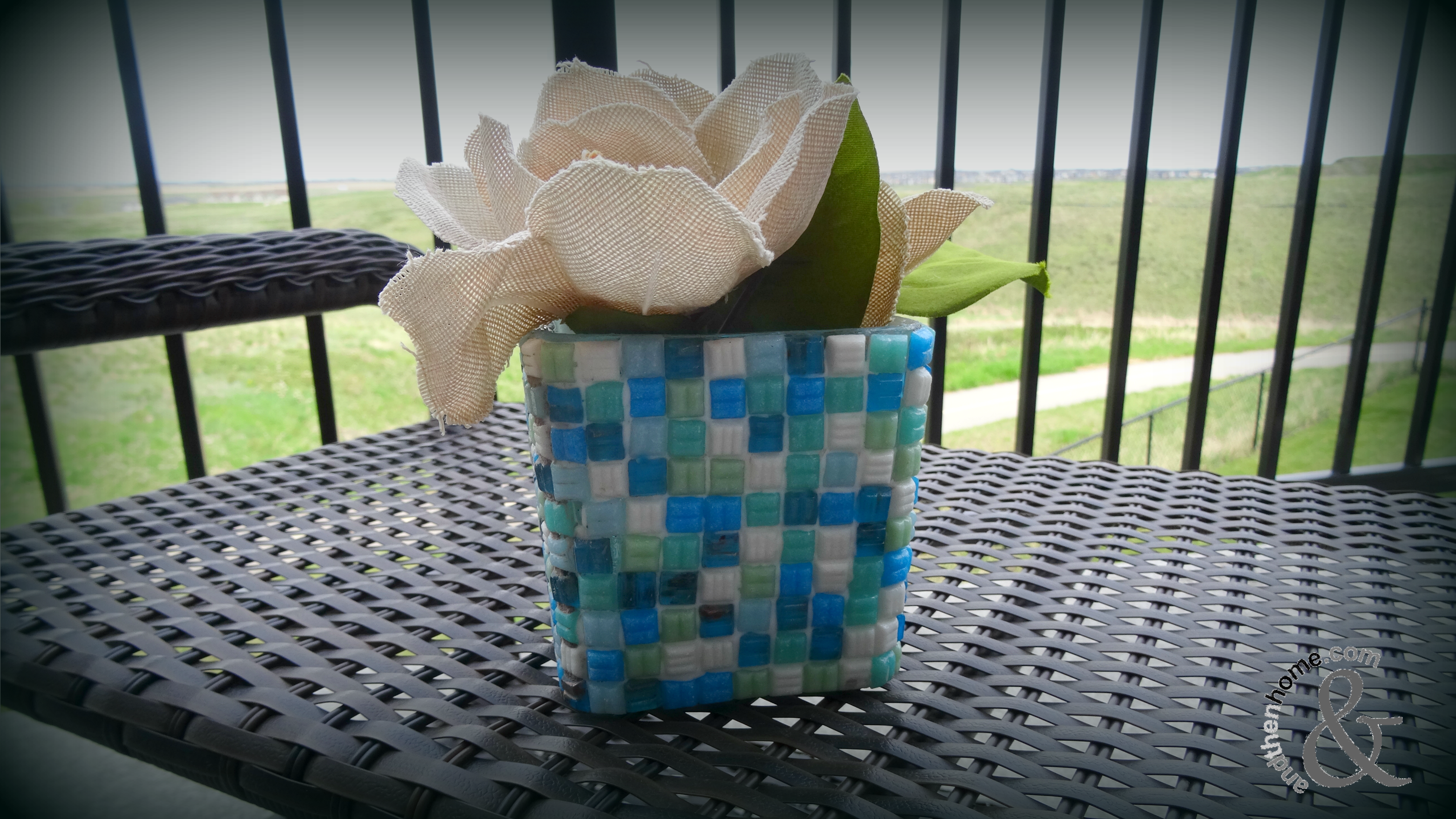 May 17, 2017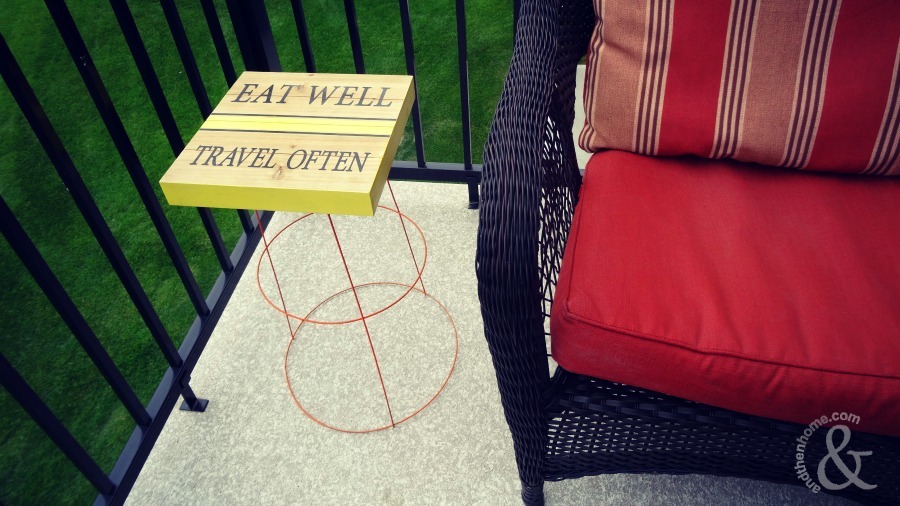 July 19, 2017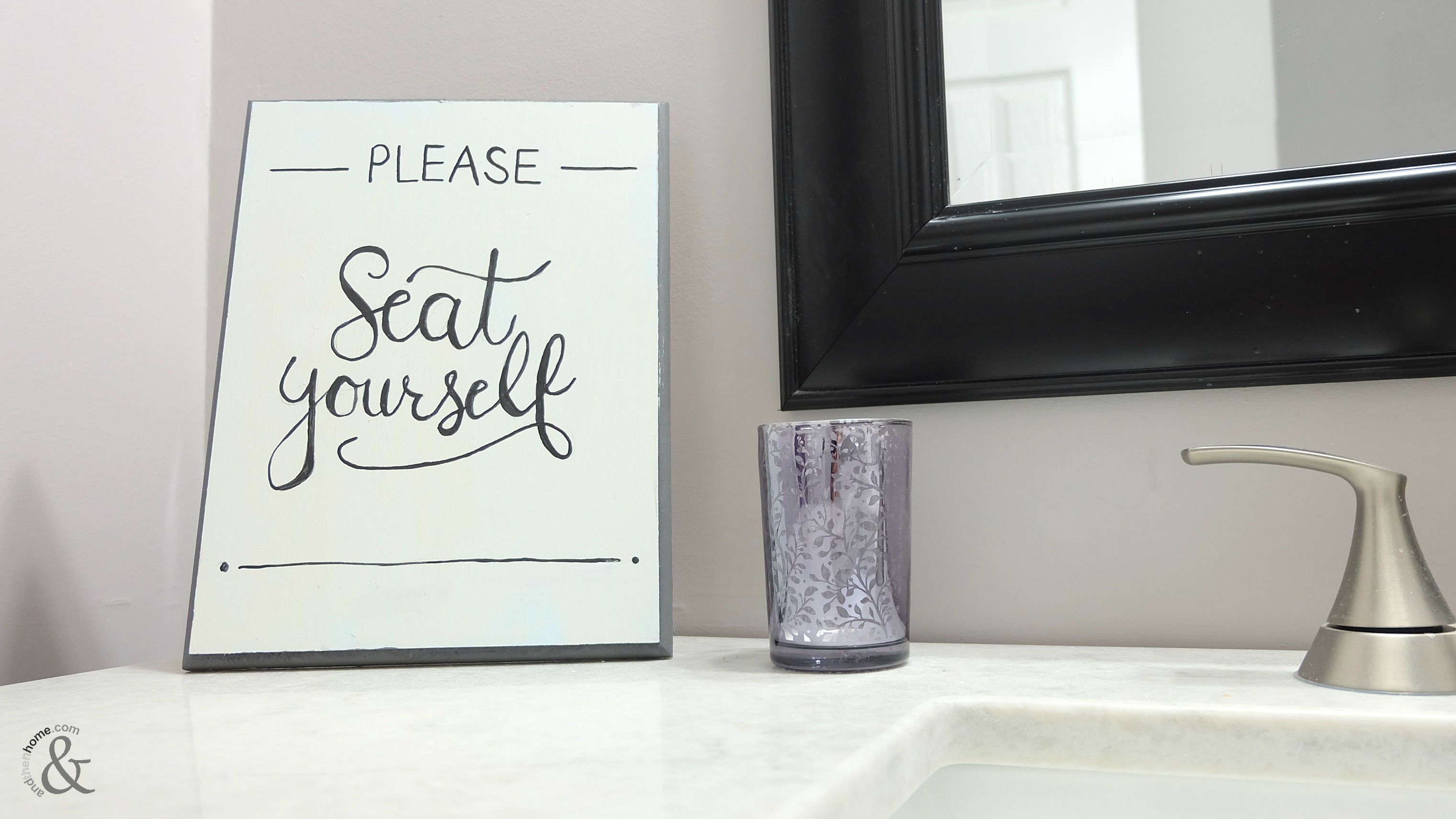 April 12, 2018