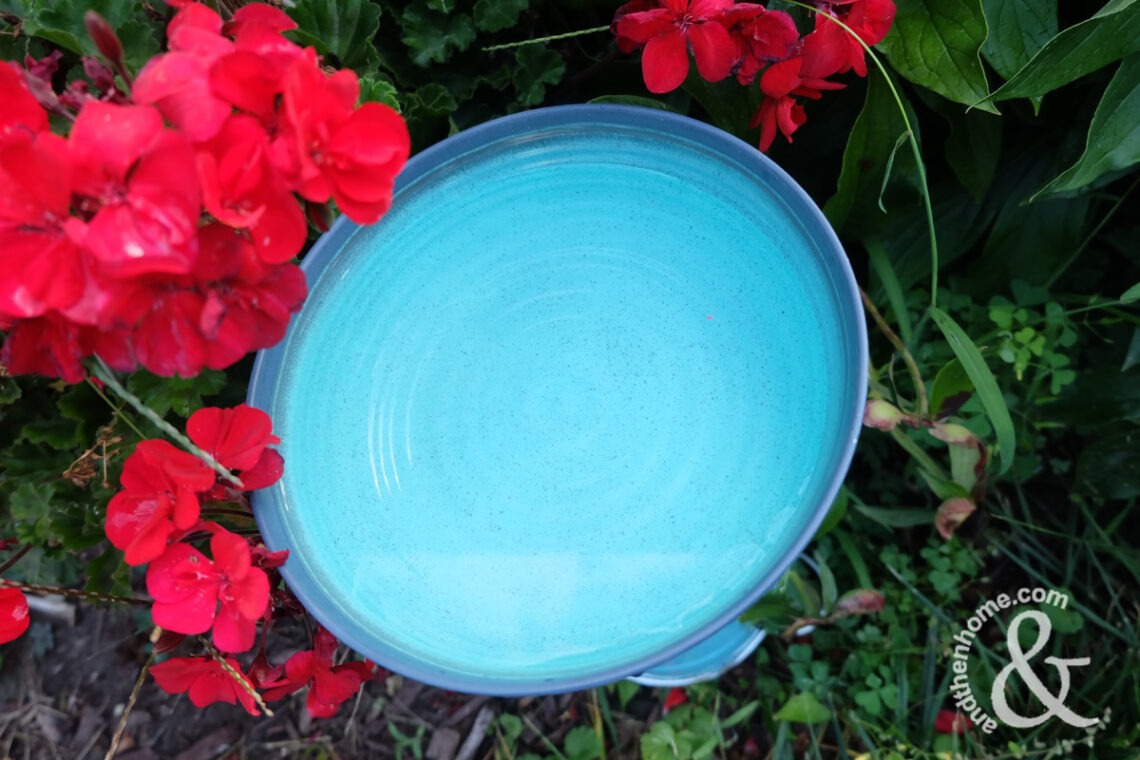 DIY Dollar Store Bird Bath
Summer feels like it's coming to an end, but there's always time for one last outdoor DIY home decor project. This DIY Dollar Store Bird Bath takes about 10min to complete and only needs two materials that you can get at the local dollar store for less then $10. Skip the expensive bird bath and opt for a beautiful, easy to make DIY one!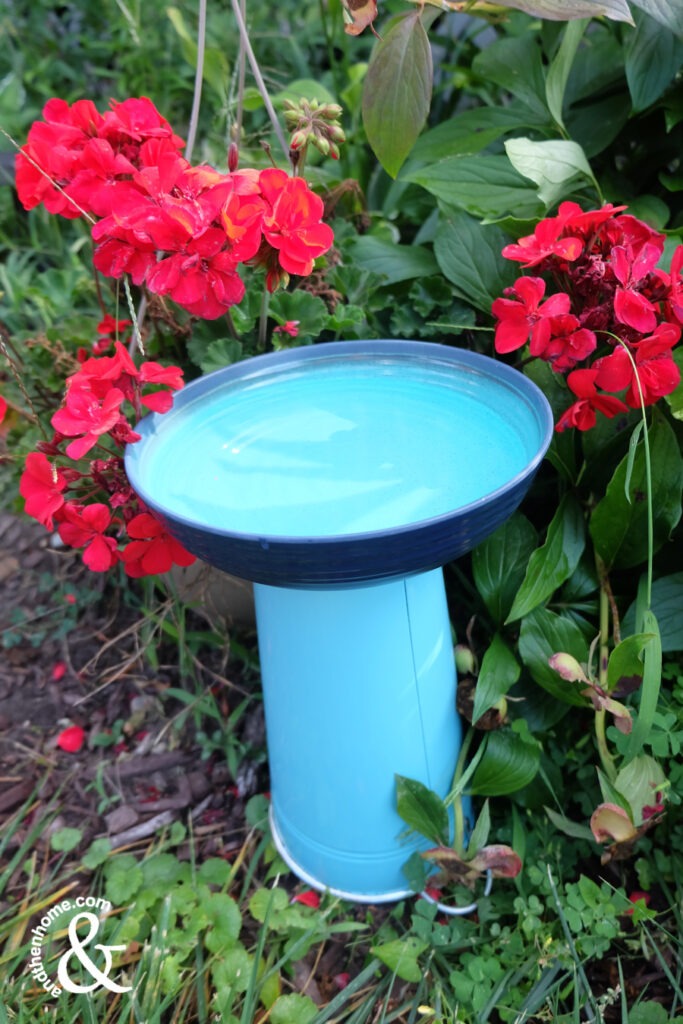 Materials for this project particularly easy to find and there's usually tons of variety. All you need is a bowl and base. Be sure to remember sizing of the bowl and base, for example they should fit nicely together. Also, choose bowls/containers that aren't too deep as birds love to stand in the water and bathe. I made two different bird baths; a taller one with bright colours and a shorter one that will be incorporated into our fairy garden. Both are made the exact same way…easily!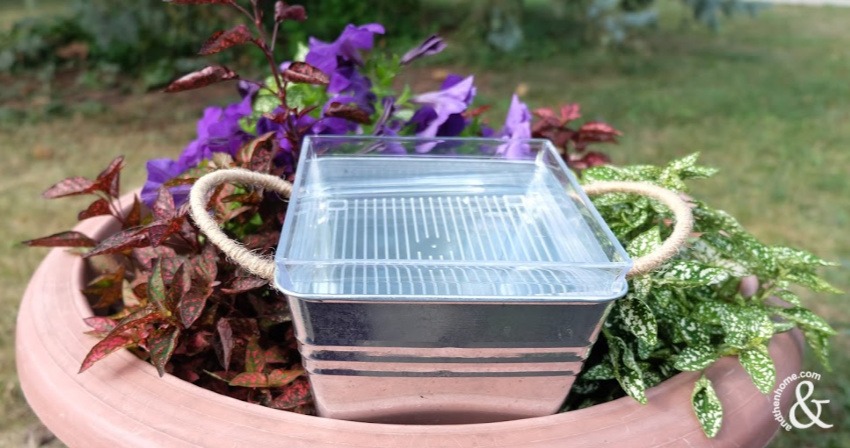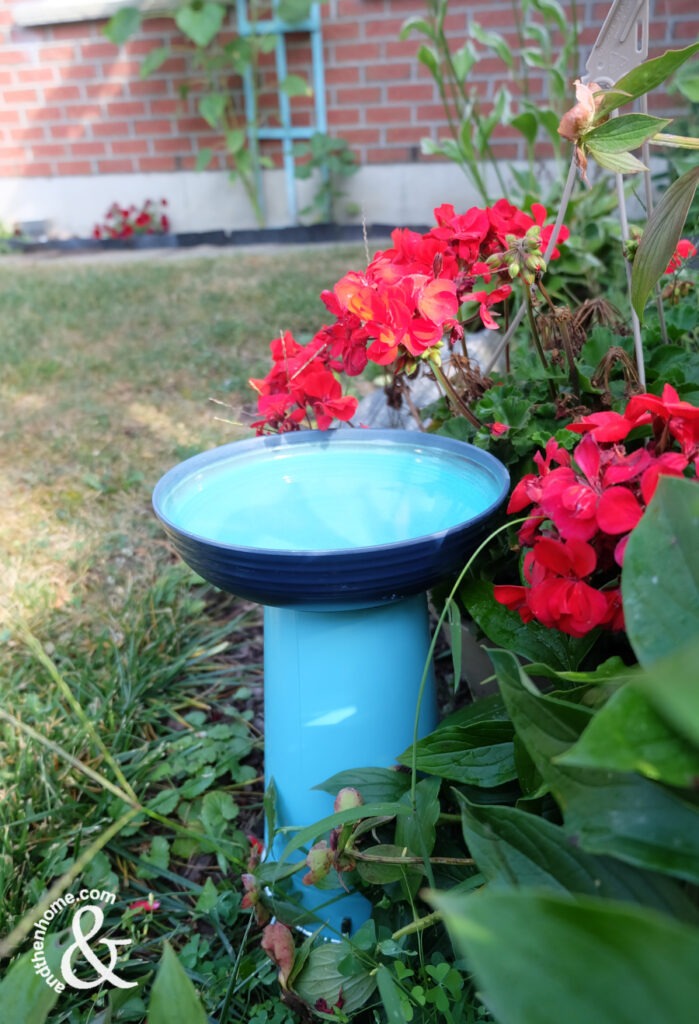 This DIY Dollar Store Bird Bath takes less then 10min to complete!
Let's see how to make your own DIY Dollar Store Bird Bath
What you'll need
Plastic bowl or shallow container
Tin planter
Hot glue gun with glue
There's really only one step to complete this DIY garden bird bath and that is to glue the bowl to the top of the planter! It's surprisingly that simple. An inexpensive DIY bird bath that takes less then ten minutes to complete, you can't go wrong with that.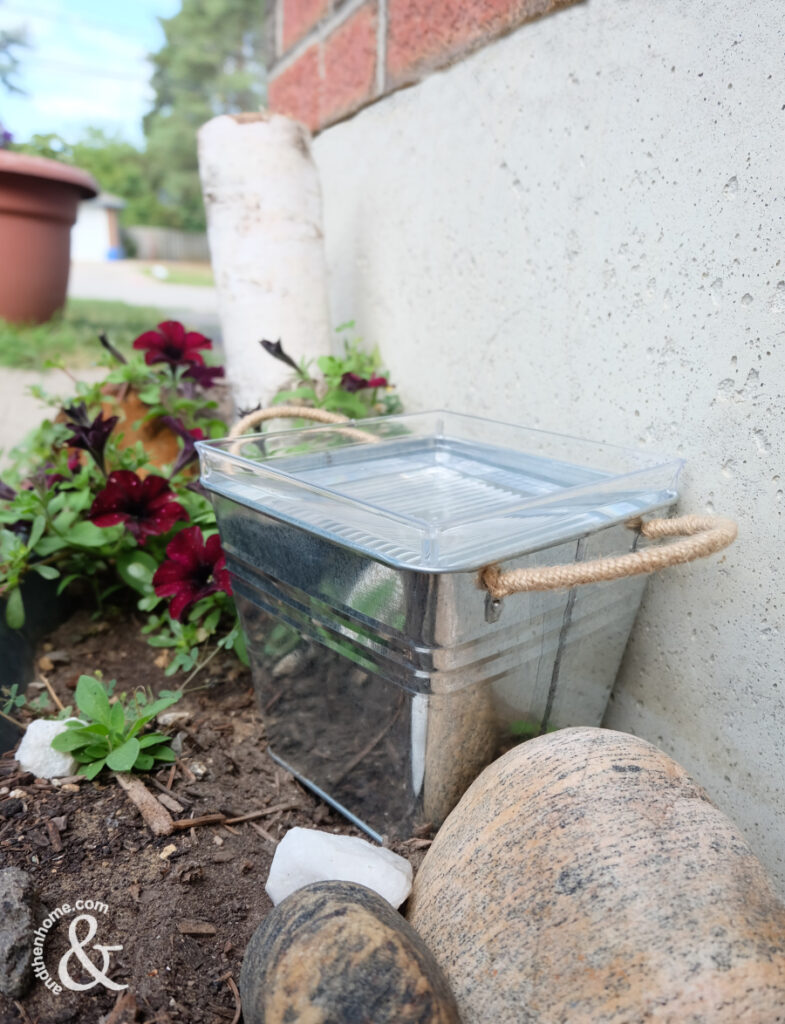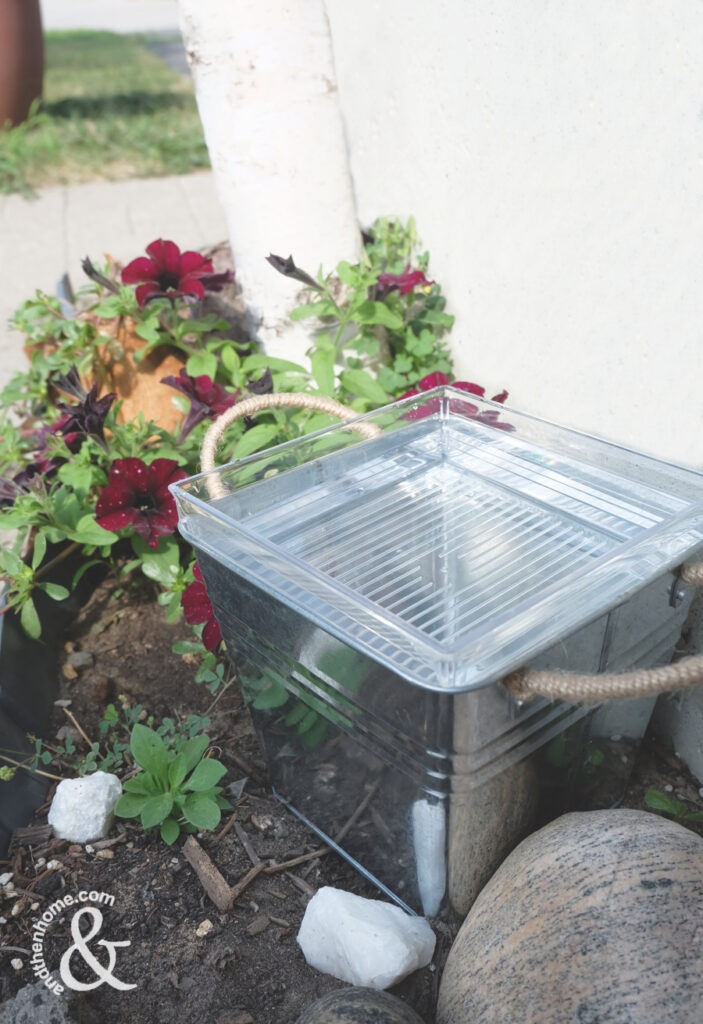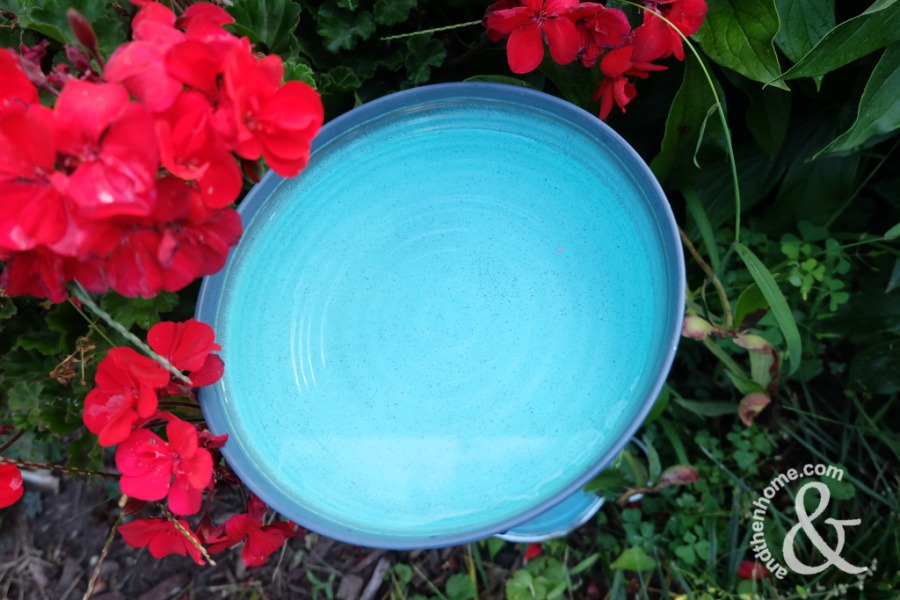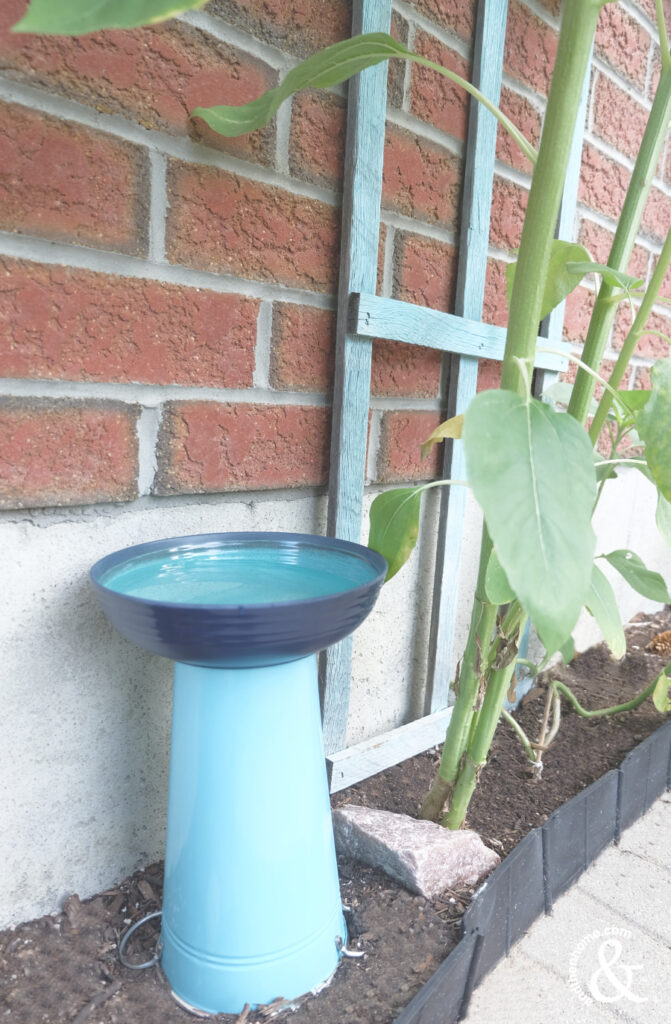 I used the light blue planter upside down to create a tapered look, which further enhanced the bird bath. You can see the planter's handles in the above photo, of course if you don't like this, you can simply cover them in mulch or dirt. If the bird bath is in the grass, the handles will be hidden among the grass and you won't see them at all!
Looking for more spring or summer home decor ideas? Check out our easy Colourful Triangle Tablecloth or see this Fruits of Summer Food Tent, by Champagne and Sugarplums. We also have an easy, budget friendly way to upgrade your patio decor, see it here.
*Disclosure: Some of the links in this post are affiliate links. There may be a small commission made by our recommendations, and/or link to products mentioned or services on this website. Any potential purchase you make will help us continue to bring you amazing content, step-by-steps and product reviews. Products are not exact to what we use, be sure these materials are right for you!
You May Also Like

April 24, 2017

March 23, 2018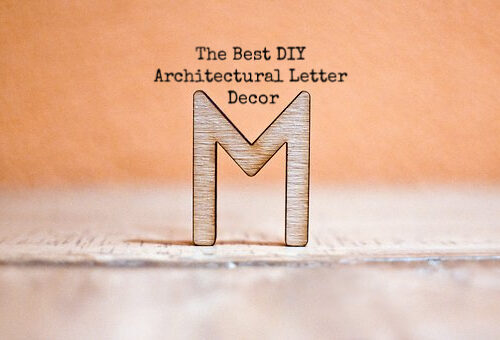 February 19, 2019