Fun and Festive Halloween Garland Craft
I have this big beautiful fireplace in my living room that is begging for a Fun and Festive Halloween Garland Craft. The mantel is looking pretty good with my purple cat and

"Boo"

sign, but the front definitely a little bare. So I rounded up the kids and together we made an awesome halloween garland to hang across the mantel and it looks oh so cute!


To make these fun little characters I used ribbon, beads for the eyes, pipe cleaners, hot glue gun and styrofoam balls. I already had a bunch of ribbon on hand, but if you don't a quick trip to the local craft or even dollar store won't take long. This garland would also work nicely with bats and ghosts. You could replace the mummies and spiders or add to it with extra characters!

Googly eyes

would also be a fun touch too. Play with it and see what you can come up with!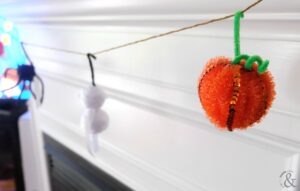 Here's how to make this Fun Halloween Garland Craft
Fancy Pumpkin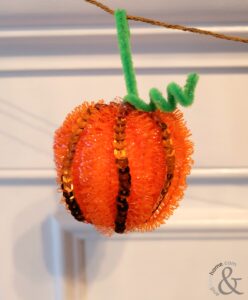 This on requires some orange tinsel ribbon that I had in my craft stock. This type of ribbon makes the pumpkin stand out and gives it some character. To achieve this fancy pumpkin simply wrap the ribbon around the

styrofoam ball,

using some hot glue to stick in in place. I added some sequinned ribbon to make it sparkle, cause who doesn't love sparkle?! And some green pipe cleaner glued into the top for a stem. The pipe cleaner also works as a hook for to attach to the garland.
Spooky Spider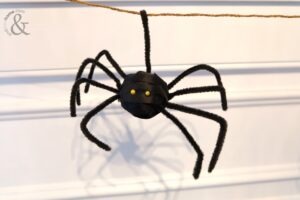 This guy was made by gluing some black ribbon around a styrofoam ball and adding

pipe cleaners

(two per side should do it) for legs. Two small beads are glued in place for the eyes. My girls enjoyed sticking the legs in and seeing the spider come to life! Of course you will want any glue to be dry and cool before handing it to your little ones.
Wrapped Mummy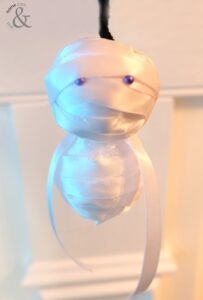 Finally our mummy. Made with two styrofoam balls with white ribbon glued this wrapped mummy finishes this garland nicely. Be sure to wrap in a horizontal direction, cutting the ribbon where needed. Once you have two styrofoam balls wrapped, use a pipe cleaner with hot glue to attach them together, adding a piece of ribbon dangling in the middle for arms. Add two small beads for eyes.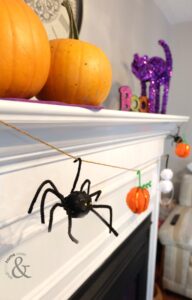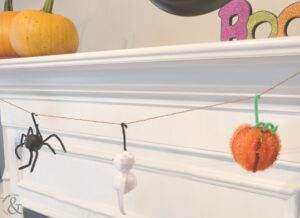 All the these festive characters are then added to a string or twine that you can hang on your mantel. This garland is fun for the kids, whether they are creating it or seeing the finished product already hung! If you love this craft check out our Top Outdoor Halloween Decorations or this DIY Cork Pumpkin.
Disclosure: Some of the links in this post are affiliate links. There may be a small commission made by our recommendations, and/or link to products or services mentioned on this website. Your purchase will help us continue to bring you amazing content, step-by-steps and product reviews.
You May Also Like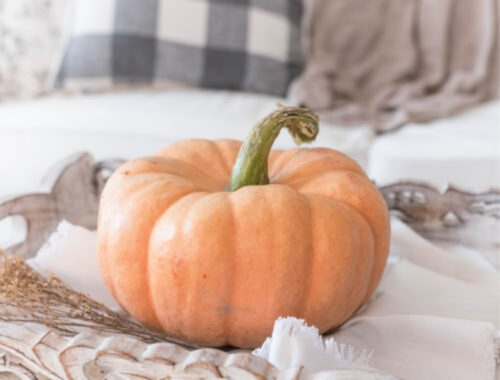 August 27, 2019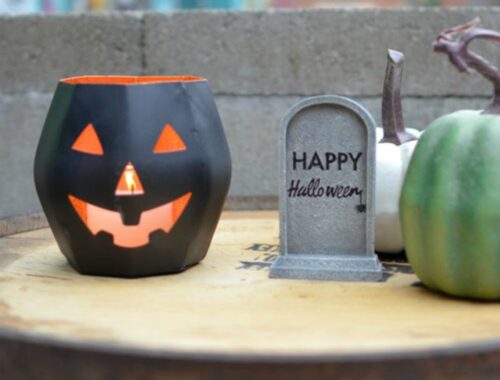 October 22, 2018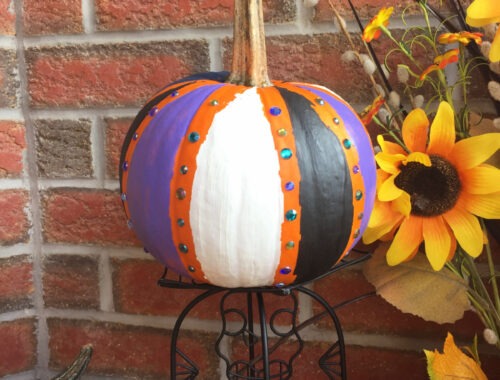 October 6, 2020