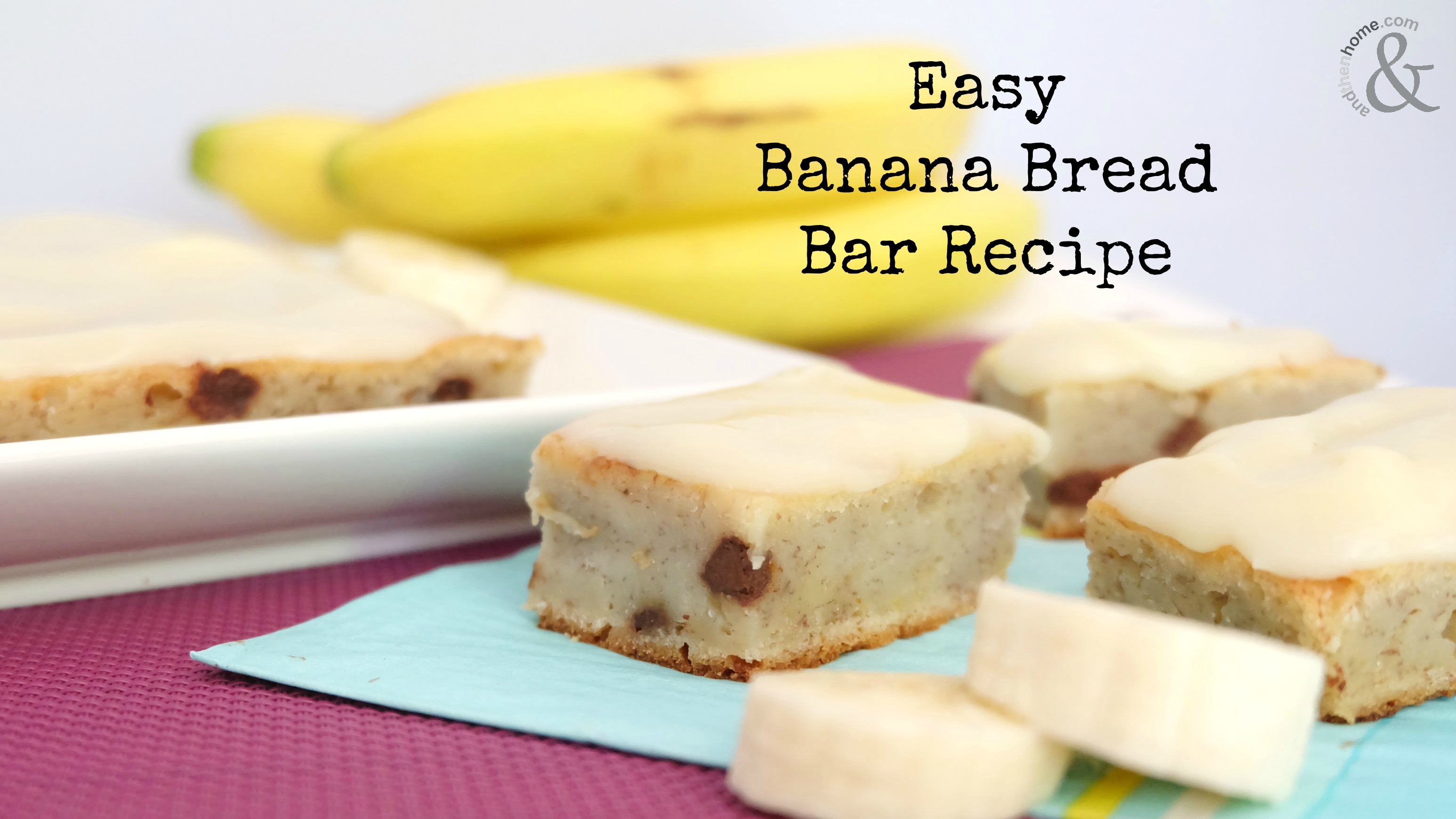 Easy Banana Bread Bar Recipe
There is just something wholesome about Banana Bread. It's a delicious cake suited for any part of the day…it has banana's, that means it's good for breakfast right? The one thing that didn't really work well for me was cutting the cake and eating it on the go. Since having three kids under four, fast and easy snacks and desserts are a must. This Banana Bread Bar Recipe works for me and is just that! If you want to stay extra clean then consider skipping the icing, the bars taste equally good without. Sometimes fast and quick doesn't involve tiny sticky fingers and faces 😉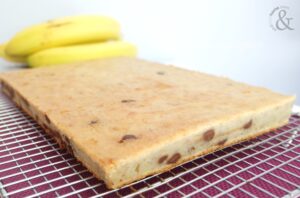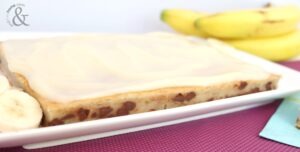 Our mom has been making this Banana Bread for as long as I can remember and we have only just discovered that it tastes even better when made in bars. I'm excited to pass this recipe down to my girls who love baking too. When Victoria and I were young, we used to 'help' in the kitchen by mixing ingredients or cracking eggs. Baking was always so rewarding, starting from scratch and creating something delicious was always fun. Now that I have kids of my own, I love to be in the kitchen with them…as frustrating as it can be at times, the value of baking is tremendous for all of us!
This recipe is an easy way to use up those bananas that have been forgotten about and if needed, this recipe can be frozen for use later if it lasts long enough to get into the freezer that is! Bring them to your next social event or have them at a family barbecue, I bet the requests for more won't be far away.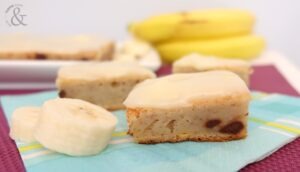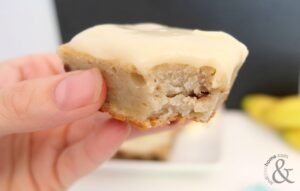 Banana Bread Bars
Moist and dense these bars are good for any occasion as a dessert or snack.
Ingredients
2

tsp

lemon juice

2/3

cup

milk

2 1/3

cups

flour

1 2/3

cups

sugar

1 1/4

tsp

baking powder

1

tsp

baking soda

1

tsp

salt

2/3

cup

shortening

2/3

cup

bananas

ripe, mashed

2

eggs
Icing
1

pkg

cream cheese

about 8 oz, softened

1/4

cup

butter

1

tsp

vanilla

3

cups

icing sugar
Instructions
Mix lemon juice and milk together

In a large bowl mix all dry ingredients together. Add the shortening, bananas and sour milk, mix until the flour is damp.

Beat the mixture for 2 minutes, add the eggs and beat again.

Bake in 2 greased and floured pans for 35min or until toothpick comes out clean.
Icing
In a large bowl beat the cream cheese, vanilla and butter until well blended.

Gradually add in the icing sugar, until completely mixed.
Recipe Notes
This recipe tastes equally as good with or without the icing, so if you want to save a few (or more) calories or sticky fingers...go without. You won't miss out on the delicious banana goodness!
Consider adding chocolate chips, blueberries or nuts to add some extra flavour!
Yummy Banana Bread Bars!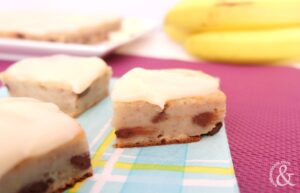 What did you think? It's a moist, dense recipe, perfect for any event. If you like this recipe and you're looking for more inspiration take a look at our

RECIPE

page. There you will find everything from desserts to dinners to copycat recipes and more! Enjoy!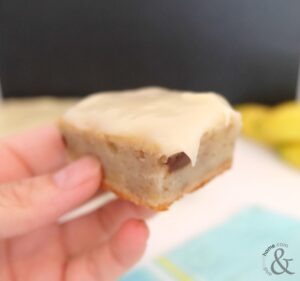 You May Also Like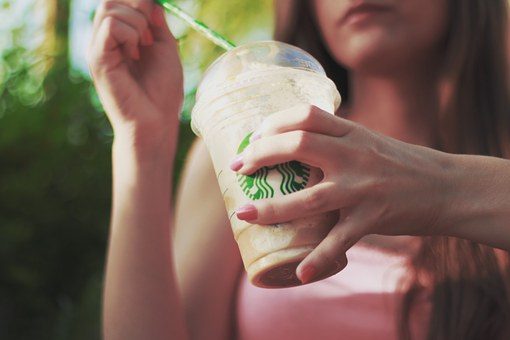 August 7, 2017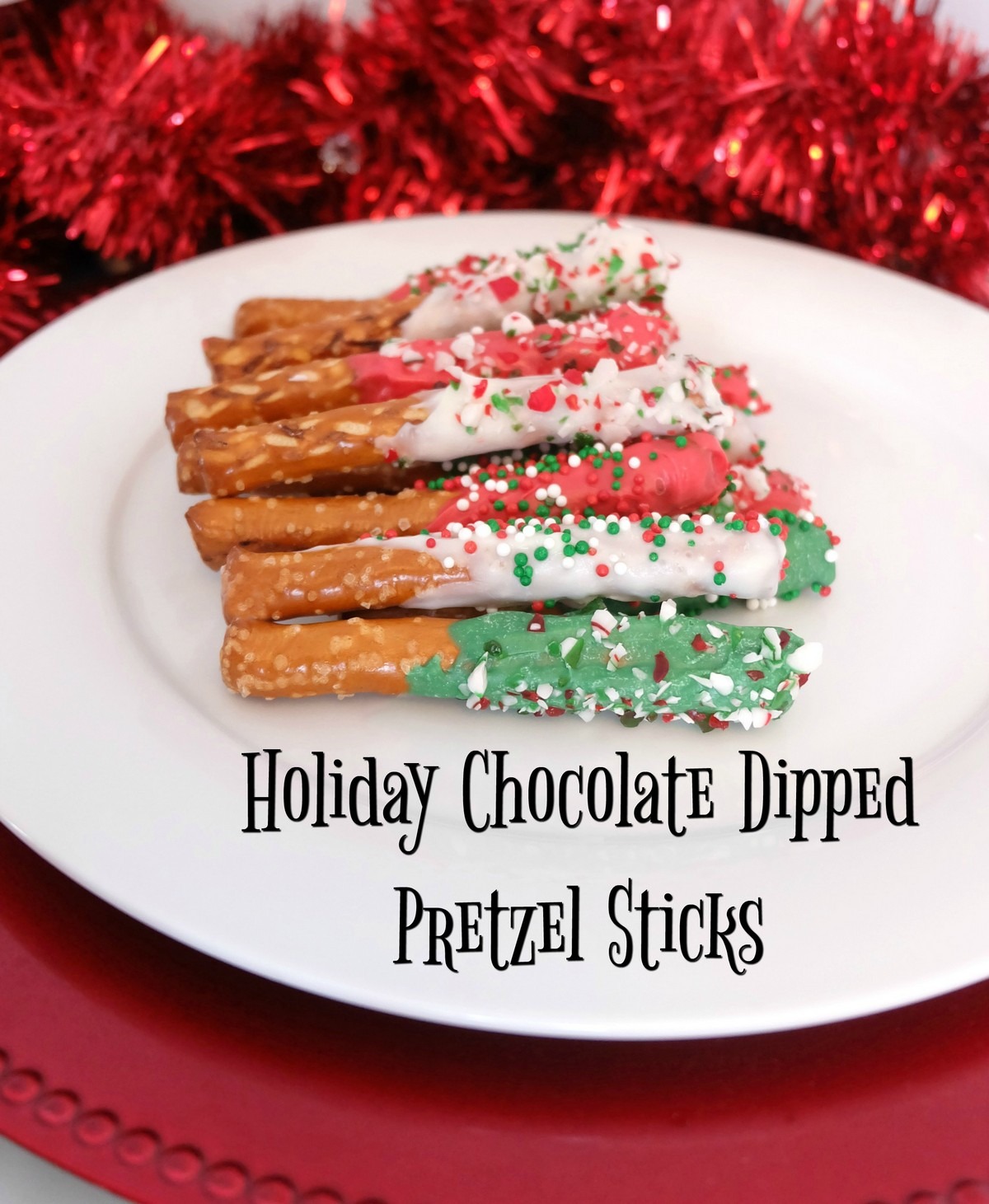 December 30, 2016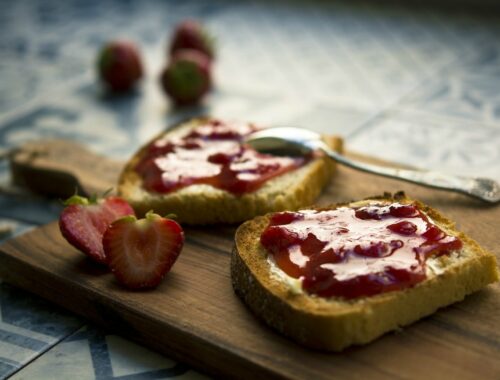 August 27, 2017