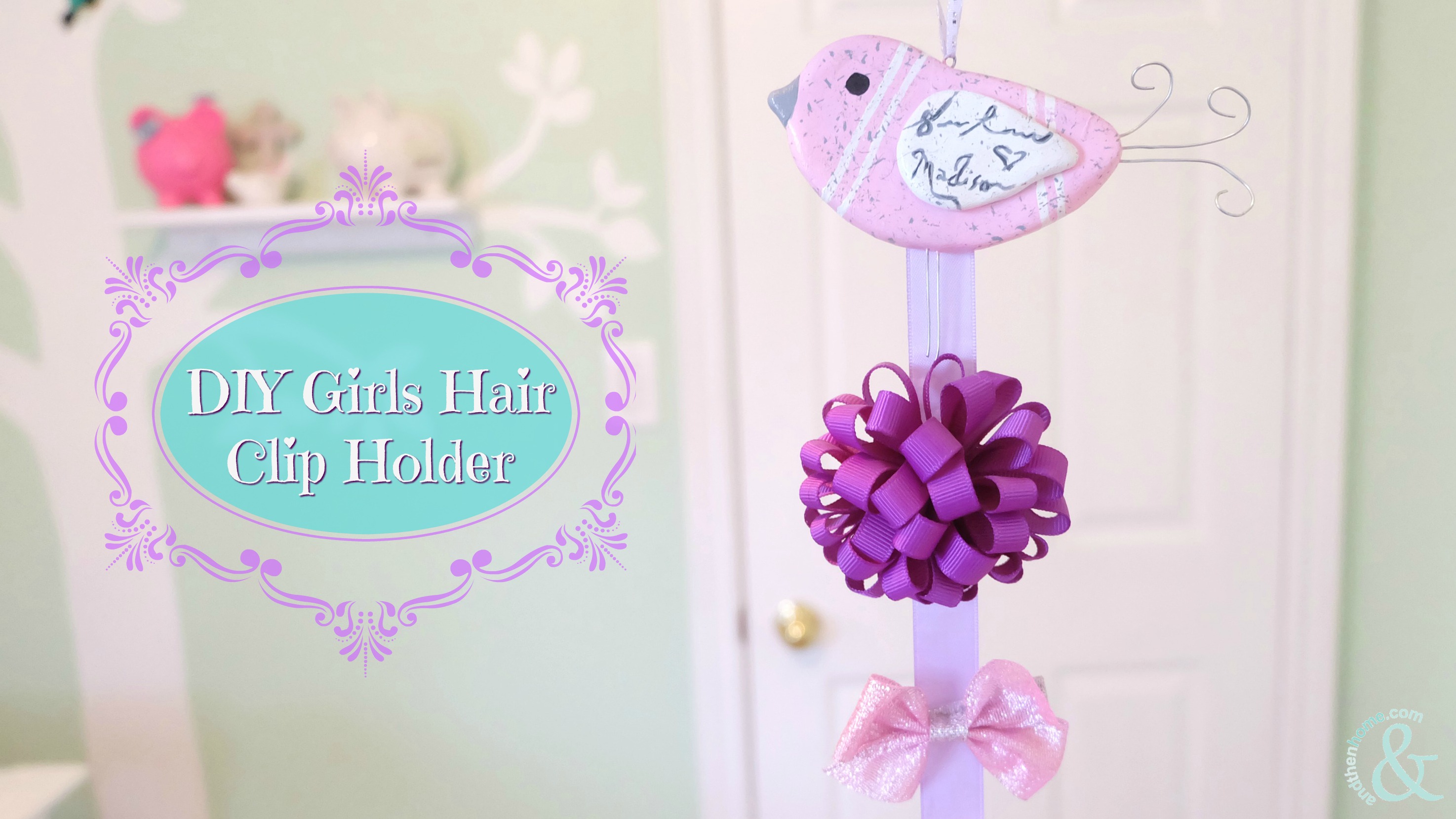 DIY Girls Hair Clip Holder
When I found out I was pregnant with a baby girl I was ecstatic, all three times! Of course I would have loved my baby no matter what gender, but I always imagined myself surrounded by little ladies. Which brings me to my obsession with baby headbands and hair clips. I started buying as soon as I found my first was a girl and quickly needed somewhere to store them. After some google searching for design ideas the DIY Girls Hair Clip Holder was made!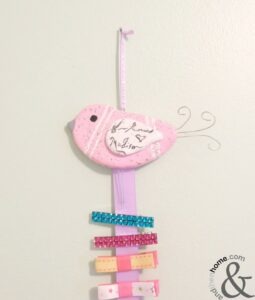 Now, had I known that BOTH of my daughters would hate having anything in their hair I may have gone easy on my hair clip collection. There are so many head bands and hair clips in my household that I could probably get away with making 5 of these holders. And even though my first two don't wear clips, there is still hope as my youngest is only 5 months old 😉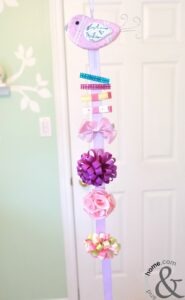 This hair clip holder is relatively easy to make. The character on the top is made with polymer clay and therefor can be made to fit any room theme or even a favourite cartoon character. There are two ways to make this holder, paint and no paint. I personally am better at painting polymer clay then using the coloured type, I also think the finished product looks nicer. I chose to paint a 'Pottery Barn' inspired bird for mine as it matches the girl's nursery, which is green with lavender and pink accented birds.
Once you've picked the character or design for the top all you need to do is find a matching ribbon to hang from it. The ribbon length is up to you, just keep in mind the longer it gets the heavier as more clips are added. If you're making this for an older child, get them to help out and have them pick their ribbon and create the character.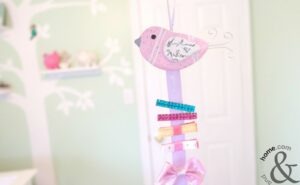 I loved making this clip holder for my girl's room. Even though they don't use the clips…yet…I still have it hung in the nursery because it's still a cute piece of decor that I'm proud of!
With all that said, let's take a quick look at the materials needed and how to put this holder together.
DIY Girls Hair Clip Holder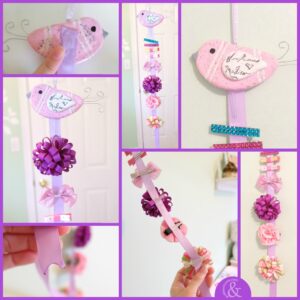 What you'll need:
Paint

Wire (or other embellishments)

Piece of ribbon (about 24-36″ long, 3/4 inch wide)

Piece of ribbon (about 6″ long, thin. Used for hanging on the wall)

Lighter

Hot glue gun
Step 1 – Polymer Clay Design. Create your character out of the polymer clay, flat characters will work the best. Try to keep the design under 1/2 inch thick, this will bake better and it will stay snug to the wall. I used a beige piece of polymer clay for mine. Be sure to knead your clay before making the character/design but try to avoid placing air into the clay as this can cause cracks. Once you have molded your character bake it using the instructions on the package.
Step 2 – Painting. Once your character/design is baked and cooled you can paint it. Depending on you colour choices, two coats may be needed. I added a few 'speckles' to my bird to give it a unique look.
Step 3 – Extras. I used several pieces of floral wire to add character to my bird design. Three wires with curled ends were used to create a tail for my bird. Then two straight pieces for some legs. Depending on the design you are using you could add sparkle, jewels, googley eyes and more!
Step 4 – Ribbon. Cut a length of ribbon and using the lighter carefully melt the end of the ribbon. This will stop any fraying. Then, glue the opposite end of the ribbon to the back of your finished character/design with the hot glue gun.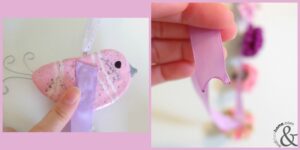 And there it is!! Your finished Hair Clip Holder!
What do you think? It's an easy to make DIY hair clip holder you can be proud of. Why buy one when you can do it yourself and make it exactly how you like it? If you're looking for more DIY fun, check out our DIY Stocking Butterfly Kids Craft or

Summer Vintage Wood Serving

Tray

,

cause it doesn't always have to be about the kids!
Oh, and just so you see how head band/hair clip crazy I am…take a look at this: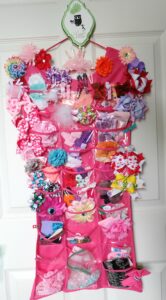 May I suggest investing in one of these cosmetic door hangers?? It definitely works for the head bands!
Disclosure: Some of the links in this post are affiliate links. There may be a small commission made by our recommendations, and/or link to products mentioned or services on this website. Your purchase will help us continue to bring you amazing content, step-by-steps and product reviews.
You May Also Like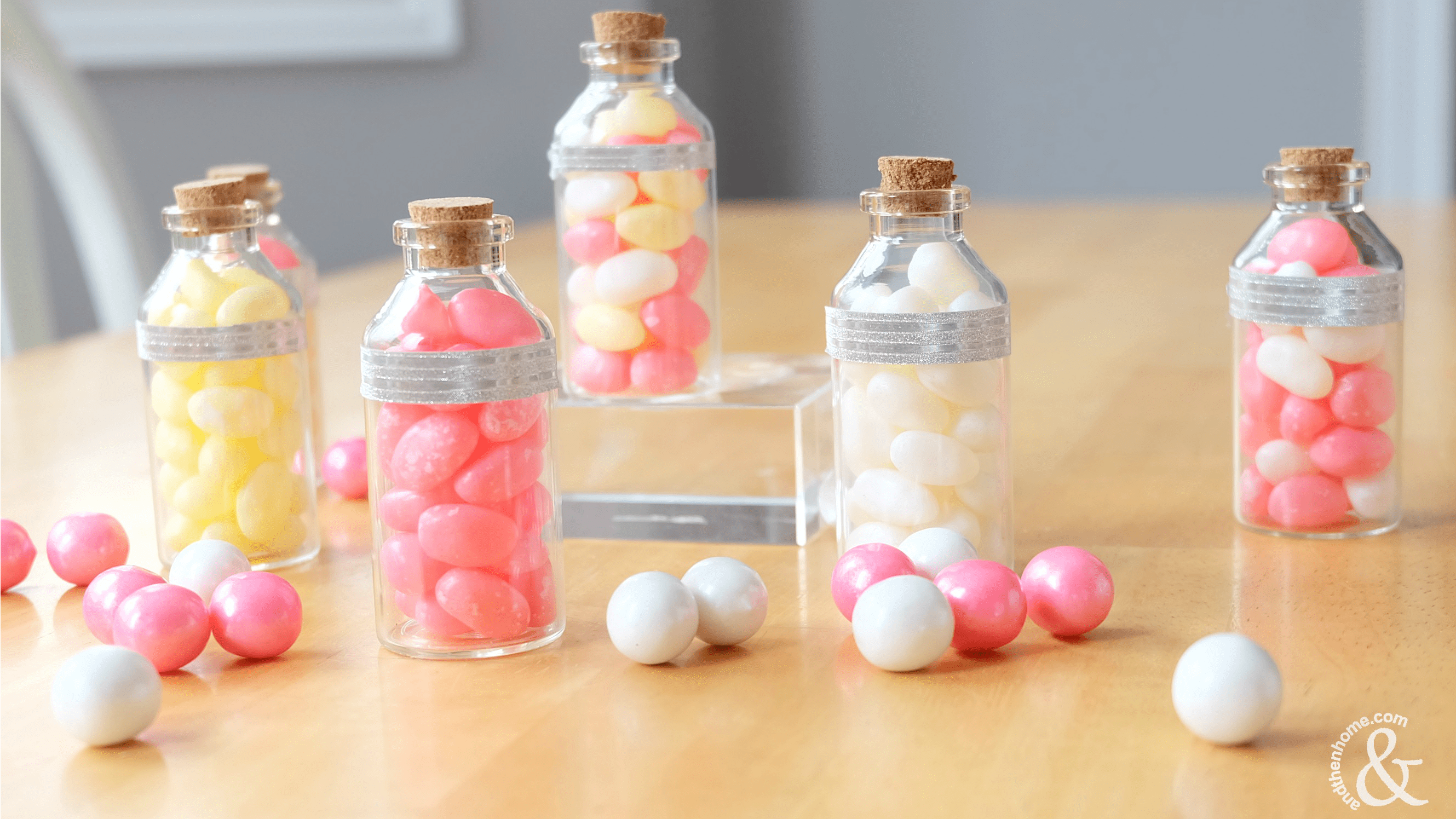 February 9, 2018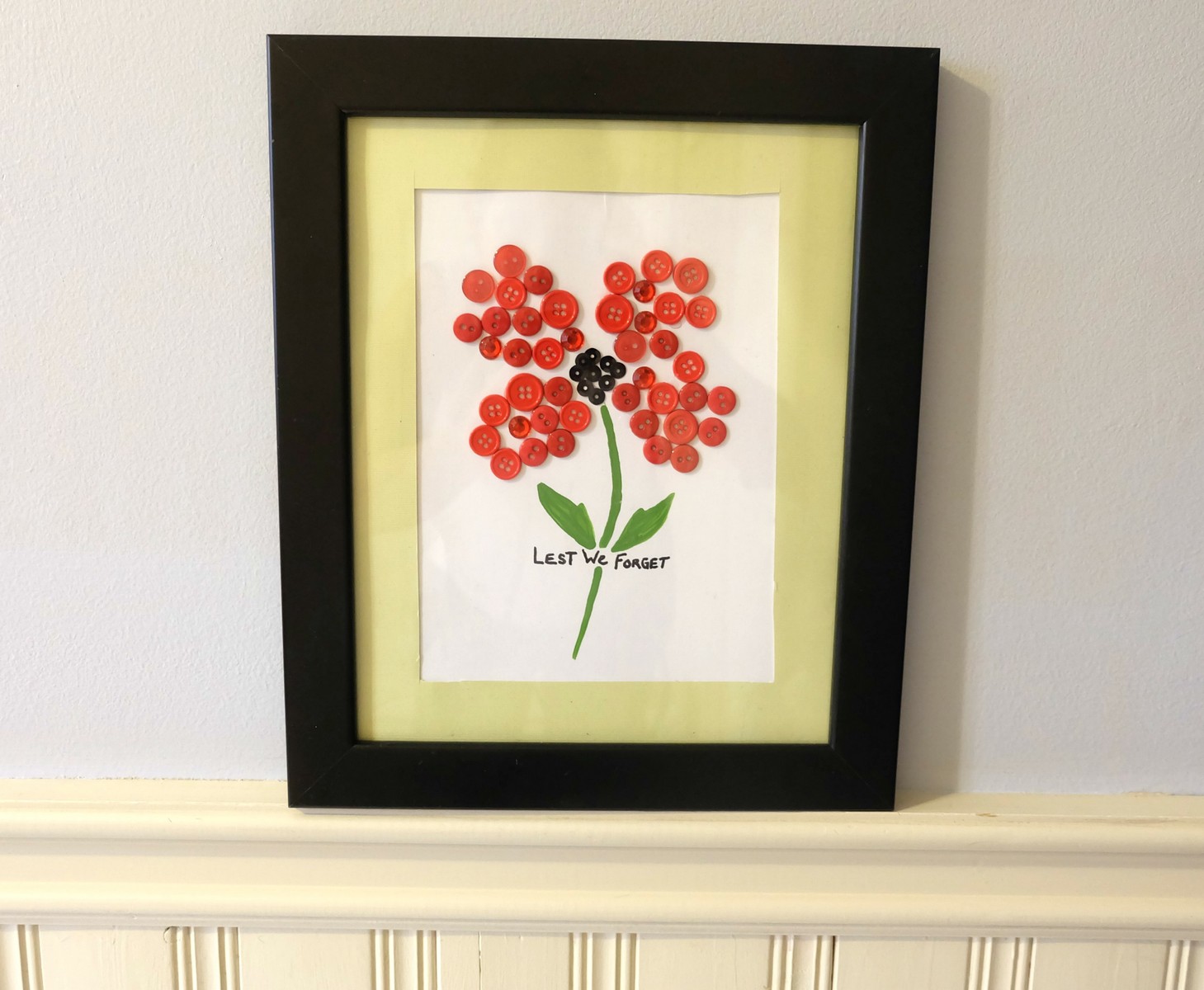 October 29, 2018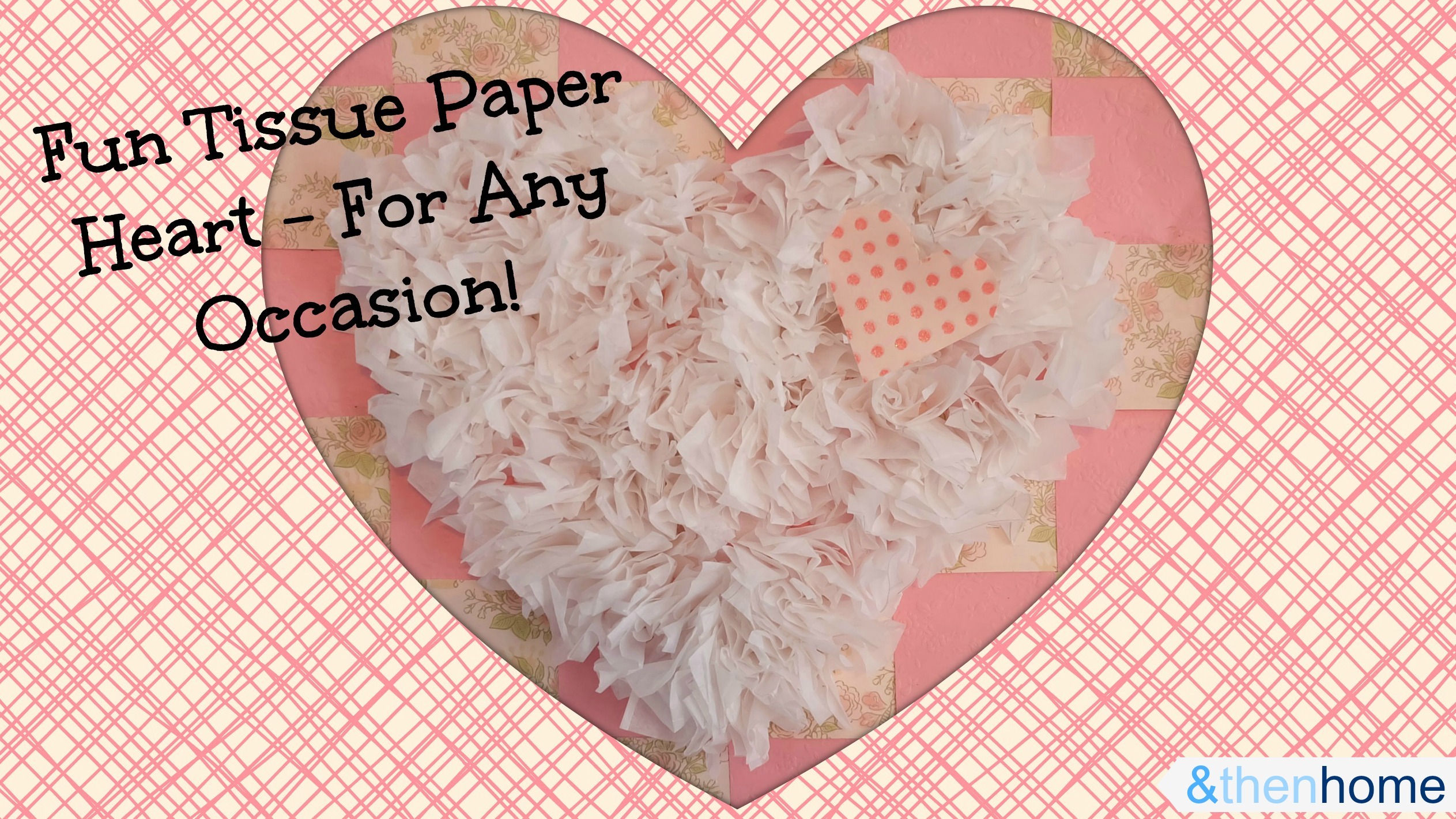 April 20, 2017