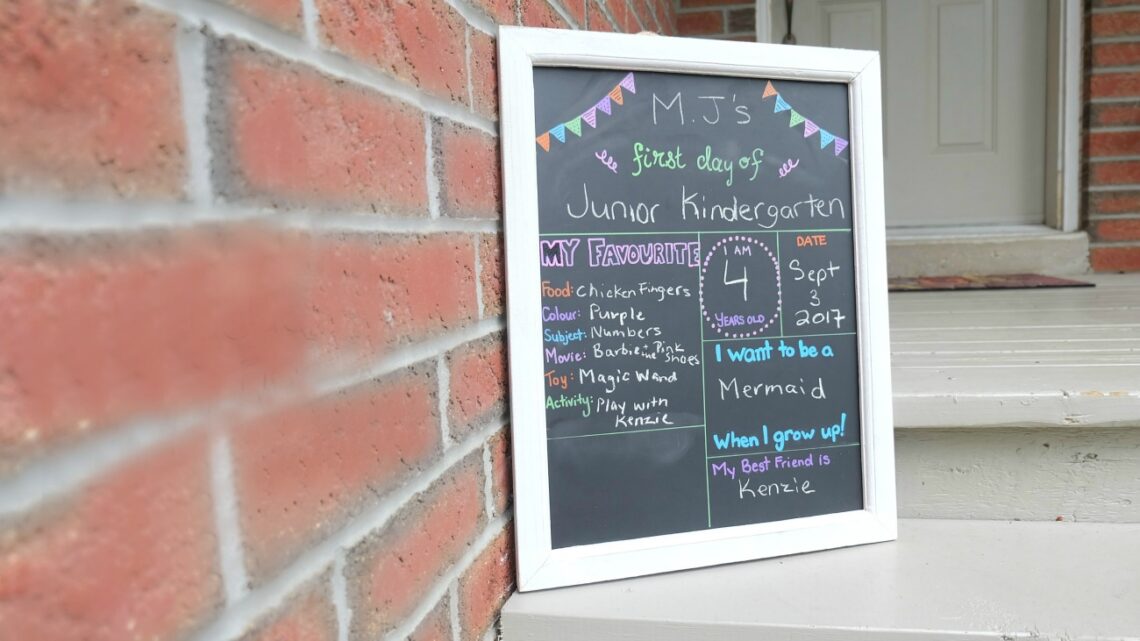 DIY Back to School Memory Chalkboard
It's happening…my daughter will be heading into Junior Kindergarten this year. I can't believe it, I feel like she was just learning how to crawl and here she is going to school. It will be an adjustment for me as I'm used to having her around. But, the day is approaching fast so I've started getting all of her back to school items ready. I started off with shoes, then a lunch bag and backpack. I still have clothing to buy and that got me thinking about the photo I will start taking on the first and last day of every grade and THAT got me thinking about crafting…doesn't your mind end with a DIY project too?? So, here I sit, writing about my daughter's first day of school and the DIY Back to School Memory Chalk Board that will follow her and her sisters for many years, hopefully right to their first day of university (if she attends and will humour me of course). ?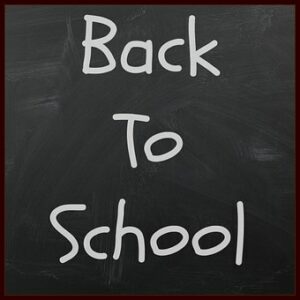 This Back to School Chalk Board is very easy to make. The hardest part for me was deciding exactly what I wanted it to say. There was a list of musts – age, what I want to be, and date. And a long list of maybe's – teacher, school, height and favourites, which has it's own subcategory of food, colour, subject, movie, song, and more. Since this is a DIY project you can choose exactly what you want your/their sign to say.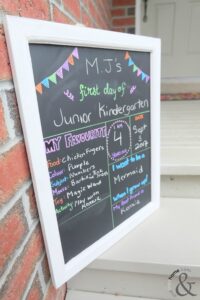 DIY Back to School Memory Chalkboard
What you'll need:
Chalk

Ruler

Pencil (for roughing it in!)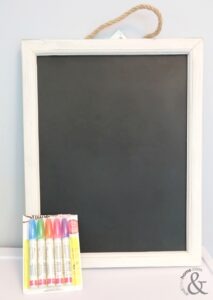 Step 1. Pencil in your design and letters, don't press too hard with the pencil, just light enough to see the design. Perhaps plan your design on a piece of paper first to give you an idea because once the pencil hits the board, it will be hard to erase.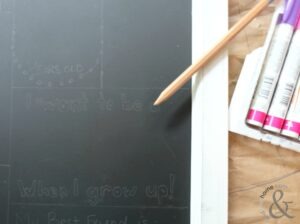 Step 2. Once you're happy with your design and layout, you can start 'painting'. Using the paint pens makes this project that much easier. Just follow the pencil lines and you're set. Choose your colours as you see fit, have fun with it!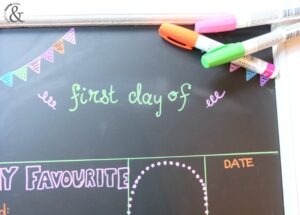 Step 3. Use the chalk to write your child's memories, name, age and year. Take your back to school pictures with this awesome memory chalk board!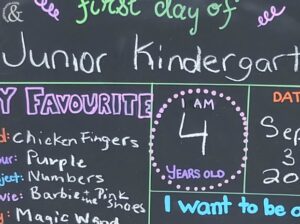 With 3 girls this board is going to get plenty of use!! Another way to use this board is to take some after school pictures. When they finish their school year, put a line through "First" and write in "Last" in chalk. Then write their answers down, take a picture and see how they've changed during the school year.

If you love this chalk board craft, check out our Chalkboard Clay Pots which are perfect for planting herbs or spring bulbs. The erasable chalkboard labels make reusing these pots simple! Or if you're looking for a way to keep the kiddo's entertained try making this easy DIY Stocking Butterfly Kids Craft.
Disclosure: Some of the links in this post are affiliate links. There may be a small commission made by our recommendations, and/or link to products mentioned or services on this website. Your purchase will help us continue to bring you amazing content, step-by-steps and product reviews.
You May Also Like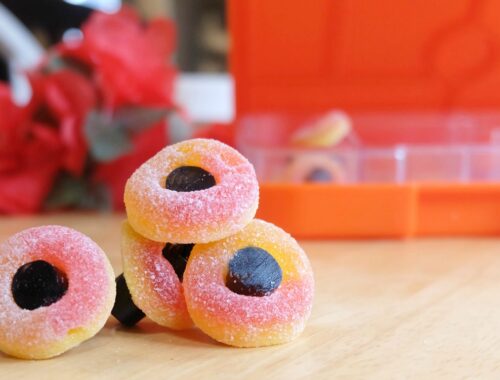 November 3, 2017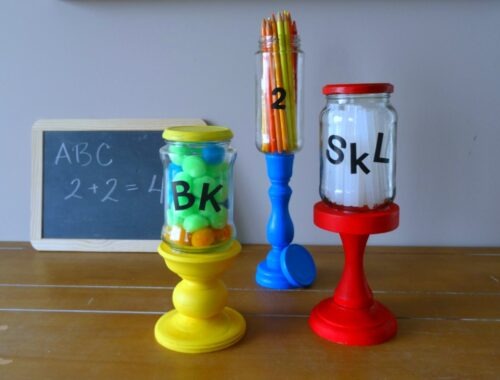 August 21, 2018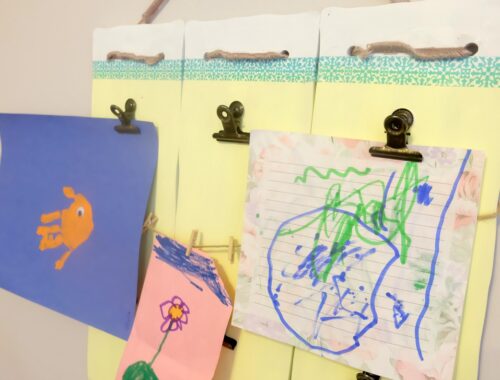 August 21, 2018