Lucky Rustic St. Patrick's Signboard
It's time to get your green on! Introduce some Irish cheer into your home during this particularity long winter. (I don't know about anyone else, but I don't know how many more -30 days I can handle!) Luckily, this wood sign might just be enough to ward of those winter blues with the traditional St. Patty's green and a subtle rainbow touch. A lot of people don't go all out for this luckiest of holidays but it has a lot to offer. It makes a nice break between the pinks of Valentines Day and the pastels of Easter. Go ahead and let greens, golds and rainbows dominate your decor.

I chose to paint my plaque white, I thought that the green would stand out better than against the natural wood it started at. To give the plaque more depth, I first painted it green and then a layer of white over-top. This way I could sand away some of the white paint to give the sign a nice rustic look. I didn't have a stencil with large enough letters so I just measured mine out. If you happen to have a Cricut machine, this would be a perfect time to use it! I used two layers for the letters for a finished look, which I achieved by gluing my cut letters onto a square of dark green paper and then cutting around the edges, leaving some dark green behind. Let's get sham-rockin!
What you'll need:
Wood plaque
Scrapbook paper in green patterns
Modge Podge and foam brush
Scissors
Ruler
Embroidery thread in a rainbow of colours
Green and white acrylic paint
Sandpaper

Paint your plaque green. When this has completely dried, paint over the green with white paint. Be sure to let all of the paint layers dry completely before moving onto the next steps. If you don't, the colours will smear together.

After the white paint is dry, use the sandpaper to distress the plaque by rubbing away the white paint around the edges of the plaque.


Cut out your letters while the paint layers dry. Use a stencil, Cricut machine or a ruler like I did. Add a second layer to add depth and flare.

Use Modge Podge to attach the letters to the plaque. Seal them by applying a layer of the glue over the top of the letters as well.

Cut lengths of various coloured embroidery thread or twine. Tie a knot in the middle and wrap them around one edge of the plaque, securing the threads at the back.

What do you think of our lucky little sign? Please share your version with us and happy crafting!
You May Also Like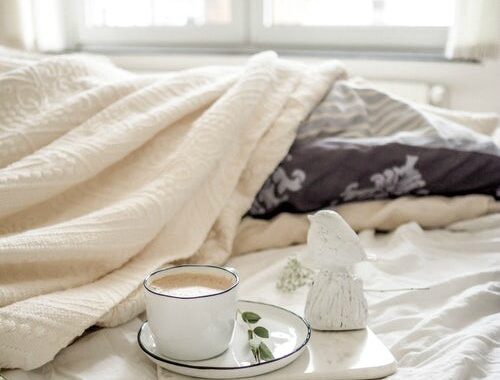 December 11, 2018

March 11, 2019

July 2, 2018