Three Step Modern Christmas Tree
I'm going to put this out there – this project may be the easiest, cheapest, quickest Christmas craft we've ever done…and we a lot of awesome decor that fits that category! (our vintage photo blocks are just one example) But the thing about this three step modern Christmas tree is that it actually takes less than 10 mins, its costs $10 and there are actually three steps in total! No kidding.
This is the first Christmas decoration I've put up this year and since we're in the middle of a move, something this easy is the perfect choice. Especially because I have absolutely no idea where our Christmas box are right now! I also love that its pulling double duty as a card holder – another super handy feature for those of us with limited time this year. I hope you love this quick decoration as much as I do, happy decorating!

What You'll Need:
Yarn
Command Hooks (mini size, value pack)
Flat decorations (snowflakes, stars, circles etc)
Scissors
Measuring tape
Useful but optional – laser pointer

Find the centre of your wall or table – wherever you are making the tree. A laser pointer is useful but not necessary for this step. Attach one command hook to the wall to make the top of your tree, with the hook facing the ceiling.

At the bottom on your tree (either at table height or the floor) measure how wide you tree will be. The closer to the ground you go, the wider the base of the tree will be. Decide how far apart you want the 'branches' to be (my tree was table height and I did them 6′ apart). The bigger the tree the more command hooks you will need. Stick the command hooks to the wall at your chosen intervals with the hooks facing the floor.

Start the tree with the top hook, tying the yarn to the hook to secure.

Wrap the yarn back and forth from the top hook to the bottom ones, looping back on itself each time. Tie another knot at the top hook when finished.

Add decorations to the tree and you're done! You can start adding cards as they arrive or leave your modern Christmas Tree as is – whatever takes your fancy! Merry Christmas!
Disclosure: Some of the links in this post are affiliate links. There may be a small commission made by our recommendations, and/or link to products or services mentioned on this website. Your purchase will help us continue to bring you amazing content, step-by-steps and product reviews.
You May Also Like

November 15, 2017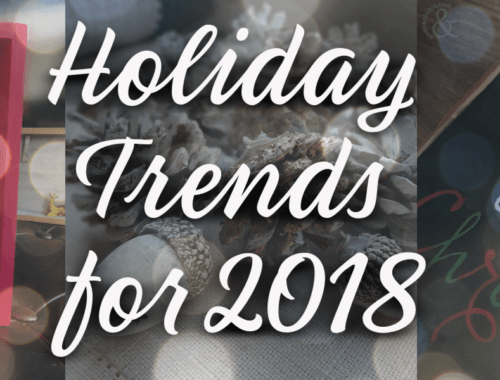 November 20, 2018

November 17, 2017