Hot Trend: Make Your Own Sea Glass Bottles
If you're lucky enough to live near a beach you could wander the shore and search for pieces of sea glass to decorate with. These naturally beautiful stones sparkle in the sand and are little summer gems. Sadly, in landlocked Calgary, we do not live anywhere near a beach so I decided to make my own on trend décor with these Sea Glass Bottles. I used my finished bottles as candle holders which are perfect for summer nights on the patio, but you could also use then as vases if its windy outside. Hope you enjoy this super chic summer project!

What You'll Need:
Three glass bottles

Krylon Sea Glass spray-paint in three colours

Natural twine

Hot glue gun and sticks

Decorative beach themed charms
Step One:

Spray paint each of the bottles in the colours you have decided on. I sprayed each bottle with tow coats of paint, waiting one minute between coats. The paint will dry in about 5 mins to where you can move onto the next step. 

 Be sure to do your spraying outside and put some newspaper or a drop cloth down. Make smooth sweeping motions while you paint and try not to stop on the bottle, this will cause dripping.

Step Two:

Take a length of twine and wrap it around the neck of the bottles, using a dab of glue at the beginning and end to keep the twine in place.

Step Three:

Make a couple of small ornaments using the twine and beach charms. Leave a length of twine attached to the ornament to wrap around the bottle. Use this length to attach the ornaments to the bottles using some hot glue.

Add some candles or flowers to the bottles and you are done your Sea Glass Bottles.
Want to make some more summer décor? Try another of our ideas: Hot Trend! Vintage Chic Lace Dream-Catcher
You May Also Like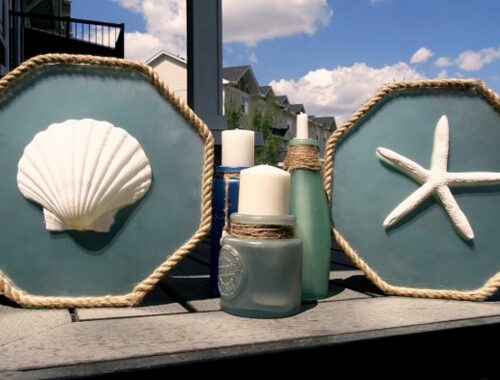 June 18, 2018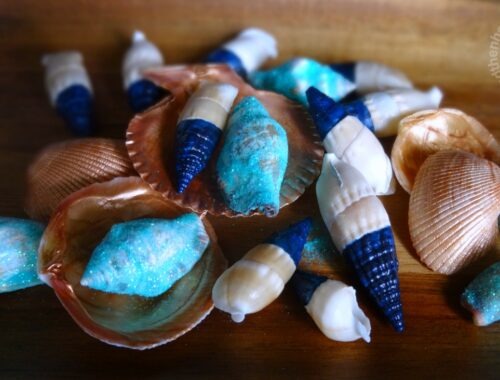 October 15, 2018

December 6, 2019