No Mantel, No Problem! DIY Christmas Stocking Holder
December 2, 2017
These free-standing stocking holders have been popping up all over my newsfeed and it really made me want one.  We have two floors in our house and stockings are opened upstairs, so I really wanted a festive place to hang our stockings after Santa visited. This way the girls could get a big surprise when they opened their door!    
This project is a long one, I'm not going to lie, but it's definitely worth it.  Even if you already have a mantel, this stocking holder is way to cute to pass up.  I've actually made two of them.  The second one will hang on my wall, instead of having it on a post, and hold our 'Santa Bags' (bags that Santa fills after coming down the chimney ? ). 
I could go on and on about traditions and uses for this fun holder, but I won't.  Let's get to todays DIY Christmas Stocking Holder.
Banister Post

(4) 4" x 5" Wooden Boards (to hold the banister up)

Large Wooden Board

Red Spray Paint

Nails

Hammer

Ruler

Pencil

Ribbon (Optional)

Glitter (Optional)

Embellishments (Optional)

Glue (For Embellishments)

Hot Glue Gun (For Ribbon)
1. Spray paint the post and the four base pieces according to the directions on the can. Allow the spray paint to dry after every coat; it may take several coats to complete. Set these aside.  Remember that any of the colours used in this tutorial can be changed; you can paint your stocking holder any colour you'd like!
Crafting Tip: You can find the banister railing at a local restore, you may even find one that is painted white already ? 
2. Paint the face of the board with red acrylic paint; you'll likely more then one coat to completely cover the board.  Allow the paint to dry between each coat. Paint the back of the board and the outer edge green. (The green edge makes the red center really 'pop.')
3. Using your ruler and a pencil, lightly draw a straight line on the board. This will be your reference point when making your letters.  Be sure not to press too hard as your pencil line could be difficult to remove.  You can draw the letters with the pencil first, paint them freehand, or even use a stencil. Glitter can be added to the letters after the paint dries by tracing the letters with glue.
4. Some glittery stickers were used in this tutorial, but you could paint stars, snowflakes, use pre-designed wooden accents, or use felt to make small stockings. You could also leave the board as is to allow the letters to really stand out.  
5. The hooks are easy to attach to the board; you should be able to screw them in with your hands using minimal force. After deciding how many hooks you will need, I needed six, equally measure and mark where they will go across the bottom of the board. 
 6.  Back to the banister railing.  You will need to nail the four pieces of wood to the bottom of the post to act as feet.  One piece of wood for each side of the pole. At the top, you will attach the stocking holder by using two nails.
7. Ribbon can be added to the pole if desired. Begin at the base, and work your way up, looping the ribbon the entire way.  Use the hot glue gun to secure the ribbon at both ends and in several places along the length of the pole.
Ta-Da!  How did your Christmas Stocking Holder turn out? 
Even if you have a fireplace, start a new traditions or make one anyway…they are too fun!  It would also make a great gift.  
If you loved this DIY'er, you have to check out our Painted Winter Trees – With Glitter, Victoria made these and I'm dying over here.  Or if you have a mantel and want to makes a personalized holder for each family member, see these His and Hers Stocking Holders.
;
Disclosure: Some of the links in this post are affiliate links.  There may be a small commission made by our recommendations, and/or link to products mentioned or services on this website.  Any purchase you make will help us continue to bring you amazing content, step-by-steps and product reviews.
You May Also Like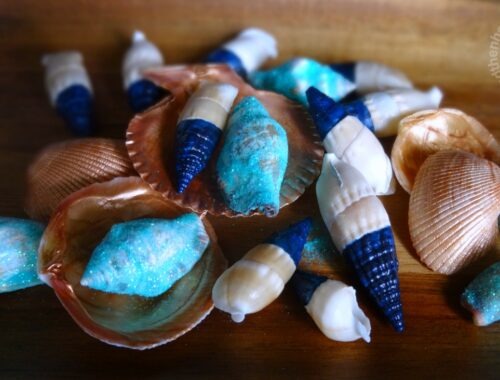 October 15, 2018
October 16, 2018
December 23, 2017