DIY Pottery Barn Inspired Home Decor
November 6, 2018
We've reached November, the month in between.  Halloween is over but we can't decorate for Christmas yet, we can craft for Christmas…but can't really display for a couple more weeks, sorry to say.  We do however, have opportunity to use red in our decor for Remembrance Day and Veterans Day, like this Elegant Button Poppy Art.  And, with the American Thanksgiving on the way, Fall colours are still a great option.  But, if you're like me and feel in limbo you want something a little wintery but still crisp for fall.  This week I want to share a DIY Pottery Barn Inspired Home Decor idea I had.  It can match most decor options and looks Pottery Barn quality!  

This project is fairly simple but does take some concentration to align the fabric properly.  My inspiration came from Google and Pottery Barn.ca, of course I love the store…but if I can make something that looks just as good as the real thing, then I'm going to try!  

Since I already had a clear vase at home with no purpose, I used it.  Otherwise, I would have preferred a white vase to complement the grey fabric.  The pattern I chose is called a quatrefoil pattern and it's perfect for this project because it's symmetry is easy on the eyes.  The grey colour compliments both fall and winter, so I can display this piece for a little longer then most.  Check out the collage below for more November decor ideas and then let's get into making this Pottery Barn Inspired Home Decor!

DIY Pottery Barn Inspired Home Decor
Clear or white vase

Mod Podge

Fabric

Scissors 

Sponge brush

Accessory (a wooden 'S' is used here)
How you'll need to do it:
First, be sure your vase is clean.  Wash it with a mild cleaner and let it dry completely.  This will remove any finger prints, sticky labels and other things that will prevent the fabric from sticking to the glass.

Measure and cut your fabric.  Cut it long enough to wrap around the vase and wide enough to cover at least 1/2 to 3/4's of the vase, length wise.  


Next, apply the fabric to the vase using the sponge brush and Mod Podge.  Begin by applying a layer of glue along the bottom of the vase, it's easier to do this in small sections, rolling the fabric out as you go.  Run your finger over the fabric to remove and bubbles or pockets of thicker glue.  Set it aside to dry completely.

Once dry, flip the vase upside down and glue the extra length of fabric down onto the bottom of the vase.  Set it aside again to completely dry.

Once the fabric has dried you can add your accessories, using the Mod Podge.

Need more designer looks?  Shop online and save time*
How about supplies for this project?*
*Disclosure: Some of the links in this post are affiliate links.  There may be a small commission made by our recommendations, and/or link to products mentioned or services on this website.  Any potential purchase you make will help us continue to bring you amazing content, step-by-steps and product reviews.  Products are not exact to what we use, be sure these materials are right for you!
You May Also Like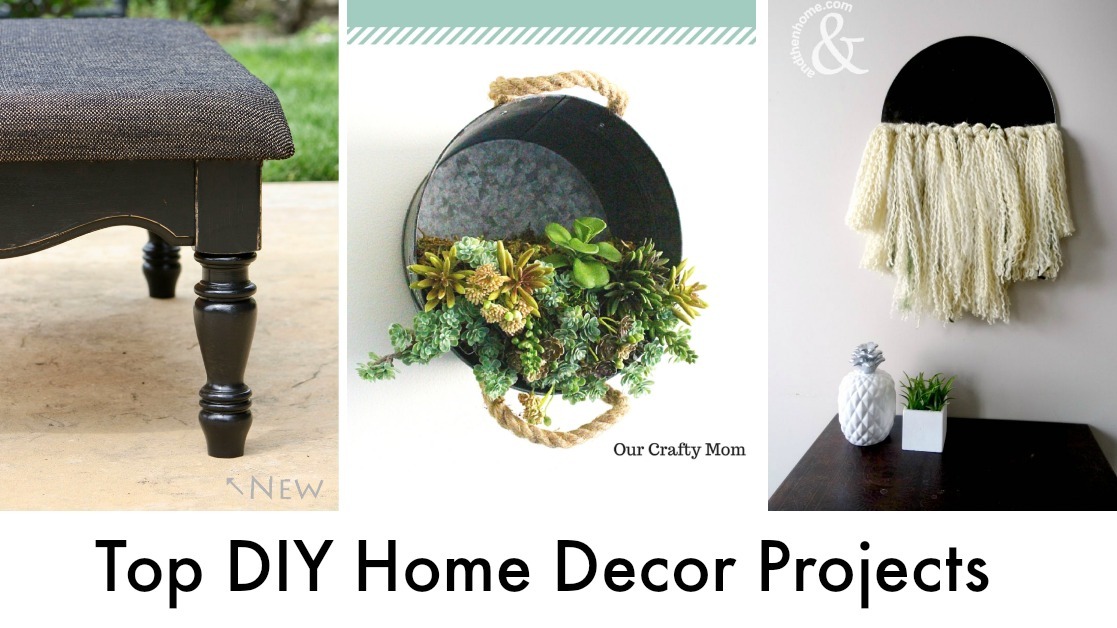 January 8, 2019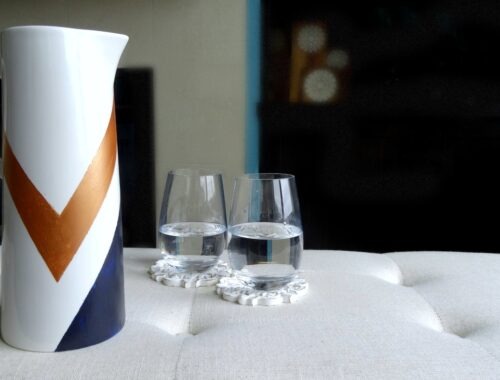 October 2, 2018

April 23, 2018