Christmas Card or Photo Holders – Three Ways
It's official…it's time to dive into Christmas! Are you ready for it? We are! And the first step every year is to send out all of those Christmas cards to friends and loved ones. You might even be receiving some already.  Which makes us very excited to be sharing these Christmas Card Holders with you today. We've shown you three ways to decorate them here, but you can do one in any theme. It's the perfect easy DIY to get you ready for the holiday season. They're also great for holding those oh-so-cute Santa photos that will soon be arriving. Let's get creating!

What You'll Need:
A shallow wood box

Acrylic paint

Glitter (optional)

Glue (optional)

Hot glue gun and sticks

Decorations

Small clothes pegs
Try shopping on Amazon for miniature decorations for this project – they start at only $3.00

Colour Pop Christmas

Paint the inside of the box with a light teal colour and let dry.
Get your paints here – starting at $30.00 for a 12 pack

Paint the outside of the box a bright, deep pink and let dry.
Need new brushes? $10.00 for an 8 pack

Add a layer of glue to the inside part of the box, covering the teal paint. Sprinkle with glitter and set aside to dry.
Get your glitter here for $5.00

Use the hot glue to add the decorations and the clothes pin in place.
Rustic Christmas

Paint the entire box dark grey.

After the grey is dry, use a sponge brush to add a light layer of white to the grey to create a weathered wood look.

Glue the decorations and the clothespin in place.
Hot glue and sticks for $18.00
Elegant Christmas

Paint the inside of the box silver.

And the outside gold.

Then add the decorations and clothespin and glue into place.
And your done! Display your holiday cards and photos in style!

Disclosure: Some of the links in this post are affiliate links.  There may be a small commission made by our recommendations, and/or link to products or services mentioned on this website.  Your purchase will help us continue to bring you amazing content, step-by-steps and product reviews.
You May Also Like

November 13, 2018

November 24, 2017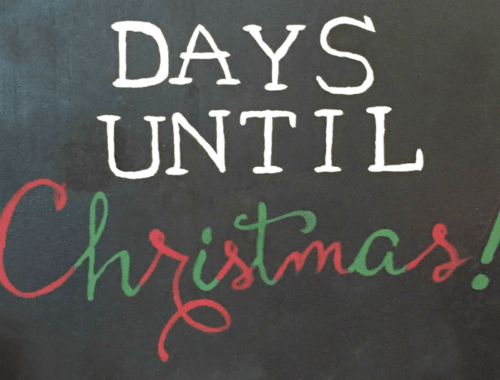 October 8, 2018